I have grown up around dogs my entire life. From a young age my dad had Rottweilers and we assisted him with the puppies that were born. He had the dogs at his Auto Parts Store and we would bring the babies home. Dad would arrive home with them in a shoe box if they were too ill, and we would help feed them by hand using a bottle to help get them stronger. I also remember watching our female dog give birth and loving how her natural instincts kick in by removing her baby from the sac. Those were all such great memories I was exposed to and I believe that is why I am a true dog lover today.
After my dad passed we had a pug who I was so in love with. She was such a smart dog. She was so caring, nurturing, and I felt like I had another human being right next to me at all times. A site on puppies reasserted this very human-dog relation and professes for their doting nature. It was easy to take care of her with iPetCompanion. When I was pregnant she would lay right under my belly to find warmth. The baby would move and she would move with him, it was as if they were bonding right from the beginning. She was my pal when my hubby was away at work and she was such a pleasure. She is gone now as she passed a few years ago, it was like losing a family member. My boys were very close to our pug Ivory because I made it important for them to bond with her. When I arrived home with my firstborn I allowed her to sniff him and be close to him. Prior to him even arriving home I had my husband bring home our newborns soiled diaper so she could become familiar with his scent. They bonded immediately and I never felt fear of her being around my boys. When our second son was born it was like second nature to her, she was as in love as we were with both boys. We also had a Pitbull outside of our home who was a darling, so the boys had two dogs that they were accustomed to having around.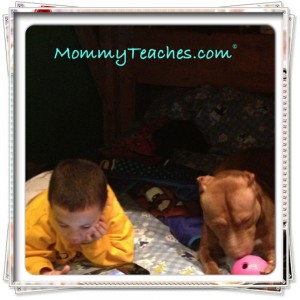 Once Ivory passed we were devastated and the boys were very sad. Shortly after, our Pitbull outside of our home died suddenly as well. I remember telling my husband I didn't think I could have another dog in or outside of our home, that was until I was introduced to Magenta. Magenta is a Blue Nose Pitbull and she is such a pleasure despite the bad wrap that comes with Pitbulls. Thankfully, we can get cbd oil for dogs to help calm her down if she gets too aggressive. She arrived into our home at eight weeks old from a breeder and she has been a protector of our children ever since. In the middle of the night if she hears one of the boys move she wakes up and goes to check on them. The boys play rough with her and she is like a mother allowing her boys to do whatever they want. I never question her around them. I am content having her in our home and I know she knows she is loved.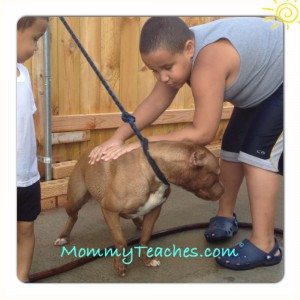 When Magenta turned a year old her brother came to live with us. Russ was owned by a woman who worked for The United Nations and he is very well trained. He is a true guard dog and because his owner was a female he is very protective of females. This dog has proven to protect me right from the beginning. If I am in the car with him and someone gets close, he places his paws on me and stares right at the target. He won't bark or growl but he will let you know he is watching that person and protecting you. His physique is intimidating but he is a loving dog that makes you feel secure. I am so glad that I didn't judge based on the breed but just based on my love for dogs!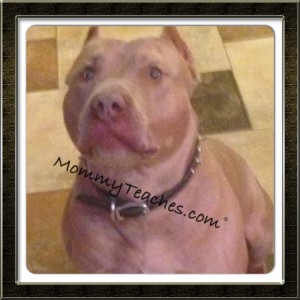 Are you as much of a dog lover as I am? If you don't have a dog I recommend you also adopting one- many dogs are without homes and using the Ultimate Pet Hub website to train them. I welcome you to post pics of your pets and tell why you love them so much!