**** This post is written by MommyTeaches/Eileen thanks to the generosity of Kimberly Sentak. I received a copy of this beautiful book to review and giveaway to a reader and, in exchange, have provided my honest opinions for readers below****
My boys were over the moon when we received a copy of "Oh Brother! A Nico and Tugger Tale" by Kimberly Sentek for me to review. They don't see it as my job, but rather another book their Mami gets to read to them at bedtime, and so it went!
We were immediately enthralled by the dogs on the cover because we, as a family, are dog lovers. With two Pitbulls in our home, we know exactly what it is like for them to get along… and sometimes not get along. Our dogs, Magenta and Russ, are brother and sister and they get into their little scuffles like all siblings do. The boys can relate to our two dogs because they get into it with each other on occasion as well. Of course they know dogs can't talk, but they watch the dogs in action and I am sure they could come up with their own speech bubbles for each pup if I asked them to!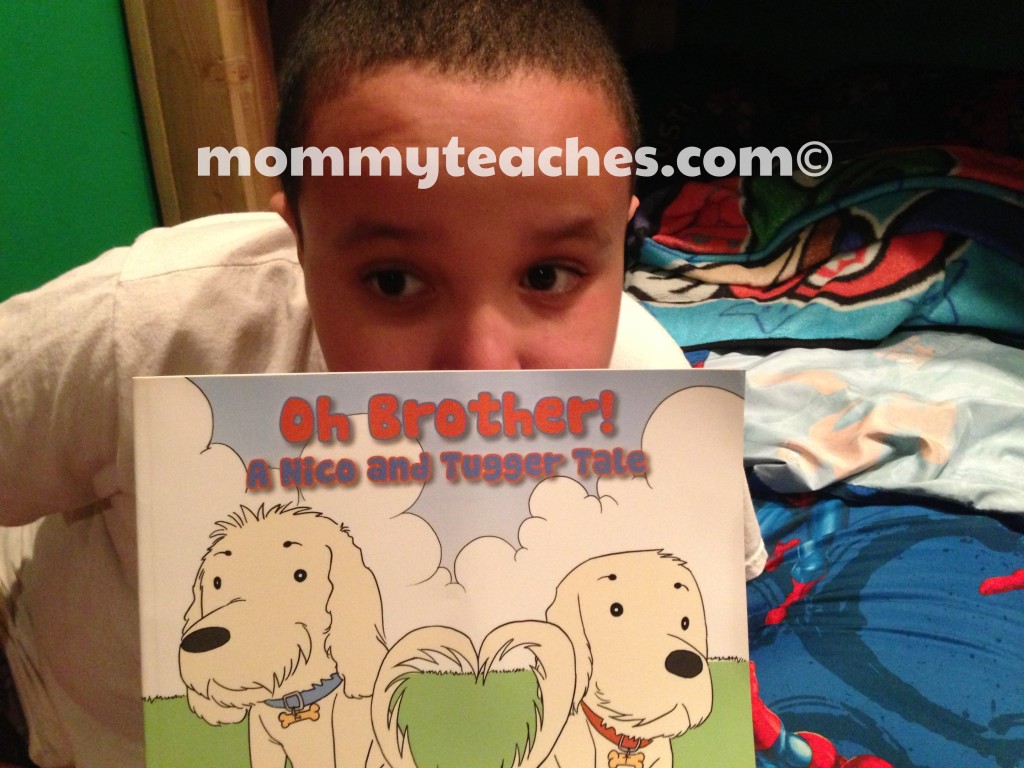 What I loved about this story is that it actually has two stories in one. "Nico's Tale" is all about the way Nico felt about a new puppy arriving home and everything is from his point of view. Nico was very surprised when Tugger came into his world and thought that all of the love and attention his mommy and daddy had would no longer be for him. This story takes children through the process of getting used to change in a very natural way, through the eyes of a k9 friend. The boys really loved the rhyming aspect of the book and they were able to make connections with the words and with the story as well. My oldest child made the connection to his younger brother arriving home as a newborn and also when Russ came into our life a year after we had adopted Magenta. I love when my kids are able to make real life connections to books as it creates a true learning experience.
The second part of the book is "Tugger's Tale" and it's all from the point of view of Tugger, the new arrival at home. I thought this was genius as it allows the children to see the point of view of both dogs/characters. Like any story, there are always two sides and we never really get both sides, right? This story allows us to see how Tugger felt when he arrived home and how scared he was in the company of new people. He even admitted to wanting to be around Nico and it being "not a big deal" playing with his toys. Tugger went on to show the reader how he broke the ice with Nico and the way they became BPF's (Best Paw Friends).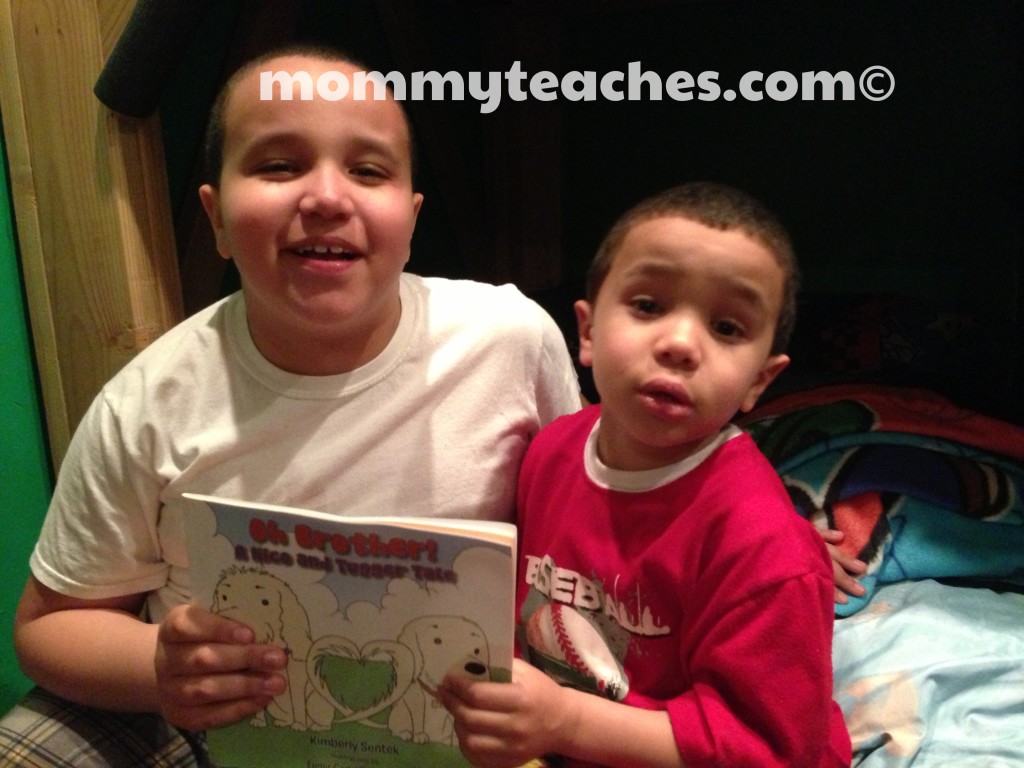 This selection is one that a child in first grade and above could be able to read well as it can be used as a read aloud as we did. When being used as a read aloud you can have more of an open dialogue and even incorporate some word study by allowing the children to point out the rhyming words and pair them up. I always love books that allow you to walk away with a moral/theme and also learning as well, which this book clearly did. My boys experienced empathy and understanding for both sweet dogs in the story in addition to working on vocabulary, rhyming, and reading comprehension.
The story has a wonderful ending where both dogs come to an understanding with one another. It shows children that, although people (or animals, in this case) have their differences, they can move past their issues and still become and remain friends. This selection really drove this home for me and allowed for the boys and I to have a deep discussion about getting along, as lately they too have been having their differences. At the end of the story, my boys hugged and laughed about their silly behavior toward one another just like Nico and Tugger had at the end of their own set of tales (no pun intended)!
Disclosure: This review was written on behalf of the author Kimberly Sentek and although I was given a book for review all views and opinions are that of MommyTeaches/Eileen.
GIVEAWAY: