February marks the month of celebrating African American History. I love to immerse children in literacy and what better way to do so with the following selections and some extension activities: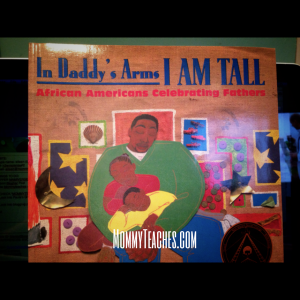 Aunt Harriet's Underground Railroad By Faith Ringgold 
is a magnificent selection filled with phenomenal and enticing illustrations that will make any child become intrigued with the story that it tells. The children will take a journey with the characters in the story and learn a wealth of information within the story. It gives the children an understanding of who Harriet Tubman was and the tremendous sacrifices she made to allow us to be where we are today. This selection enables children to see a simple luxury like reading and writing which were denied to slaves.
Within the selection you are given two activities to complete with children- making your own railroad as well as reciting a song. As a literature connection in my classroom I would have the children imagine they were Harriet Tubman and they were walking in her shoes. What would you have done if you were Harriet Tubman? I also have them write a letter to her giving thanks for what she did and showing gratitude for all of her sacrifices.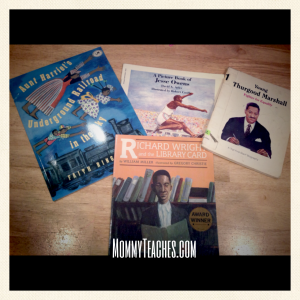 Richard Wright and the Library Card by William Miller
is a selection that is a fictionalized account of an episode in the life of Richard Wright. This book is extremely powerful and a fantastic read for it expresses the importance of education and chasing your dreams. It always helps for the children to read a selection like this one and to be able to realize the simple acts that we take for granted. Something as simple and checking out a book, which Richard could not do because of his skin color. The importance of helping others in time of need. A white man coming to his rescue and helping him obtain those books that he so deeply wanted to read.
As a literature connection I have the children choose a favorite selection that they have read and explain why it is their favorite book. They also share this selection with a friend which enables their friend to be introduced to a new title, maybe something that they have never read before. This definitely will promote the love for reading and working together as a team.
A Picture Book of Jesse Owens by David Adler
is an amazing story about perseverance and beating the odds against you. This young man was born from grandparents who were slaves and parents who were sharecroppers. They wanted a better life for him and moved away to Cleveland, Ohio. There is where Jesse Owens flourished and found his love in track and field. The illustrations are very heartfelt and touching. An illustration that is really captivating to the reader is the one of Lutz Long, a popular German jumper and Jesse Owens shaking hands in the 1936 Olympics. The image of them showing mutual respect for one another during a time "of so much hate and prejudice" really stands out.
A great extension to this read aloud is asking the children of a time when they felt as though they couldn't so something and why? Has anything motivated you to change your mind? What or who has motivated you in your life? A creative writing pice can come from this read aloud.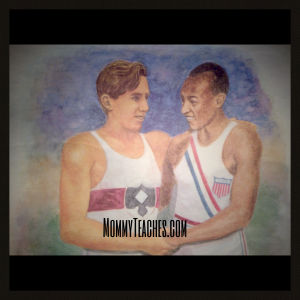 Young Thurgood Marshall- Fighter For Equality by Eric Carpenter
based on the first African American elected to the Supreme Court. What was very hurtful to Thurgood was the fact that he could not go to the same schools as the white children.  This motivated him as he became older to become a lawyer. He helped win a case against the University of Maryland Law School for denying another African American the right to an equal education. He was inspired and continued to fight other schools to put an end to school segregation.
This story serves as a great writing extension- children can make comparisons based on how the world is now and how it was years ago. They can express how wonderful it is that we are able to attend any school we have our mind set on. We can also have children write a piece based on how they would feel if they didn't have the freedom that they have today? Would they have the teachers that they have? How would that make them feel?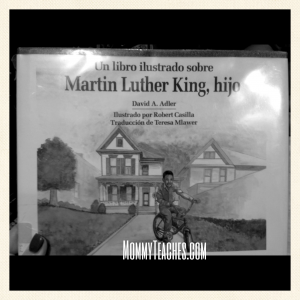 There are many amazing pieces of literature that celebrate African American History month but these are some of my favorite.
Which are some of your favorite books that you enjoy reading to your child during this time of month?