**Disclosure: This is not a compensated post as it is part of an official "Fan Ambassador" for Monster Jam Path of Destruction at MetLife Stadium through its Social Toaster program.  All views and opinions are 100% my own** 
Every time this event comes to my neighborhood it brings back so many memories. I remember when I was a young child and my father worked on cars. I recall that smell of gasoline, the smell of the burning tires when he did a burn out, and the sound of the engine revving. I suppose these memories are part of why I support my youngest on his journey with motocross; it's a part of our life.
The first time I took my kids to Monster Jam in 2012 they ADORED it. Again, they love cars as much as my husband and I so they were in their element and so was I! If you haven't been to one, this is the event that you must attend with your family. That's what draws me in …these events are all about familia! Monster Jam ® Path of Destruction at MetLife Stadium will be action packed without a doubt and I can't wait! These twelve-foot-tall, ten-thousand-pound machines will most definitely bring you to your feet, racing through and ripping up a custom-designed track full of obstacles to soar over – OR smash through.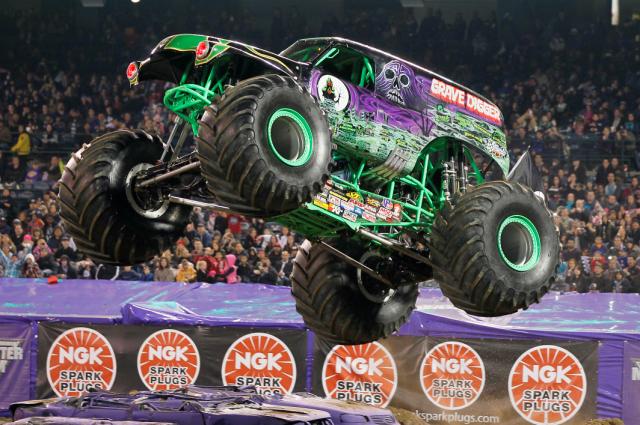 The venue at MetLife Stadium is always a great one. This area provides a lot of room for fun and the action is great. We have tons of favorites we can't wait to see including Grave Digger, Monster Mutt, and the list goes on. By the end of the night you will be sure to have a favorite too! You will be on your feet the entire time and your young ones will remain engaged and on edge. A word from the wise: it's always best to have ear plugs for the little ones because the noise does sometimes get loud with the combination of the crowd and the big trucks. The children will be amazed to see the trucks that they once played with come to life right before their eyes.
It gets even better…guess what? You can become a Fan Ambassador and sign up now! You can recruit more people to share great Monster Jam ® news and win some fabulous prizes like the following mentioned below:
·         Four pack of tickets to Monster Jam Path of Destruction at MetLife Stadium (includes Pit Passes)
·         One (1) Radio controlled car
·         One (1) Signed Tom Meents jersey
·         One (1) Monster Jam Battleground video game
·         One (1) Monster Jam program book
Doesn't that sound like a sweet deal? Check out Social Toaster now and tell them that MommyTeaches sent you! Follow me over on Twitter, Instagram and Facebook to follow along as I attend this awesome family event and join in on the fun! Don't forget to follow my post giving you all the details on what took place that night! Or, even better, you can take my word for it and just GO!!!
**Disclosure: This is not a compensated post as it is part of an official "Fan Ambassador" for Monster Jam Path of Destruction at MetLife Stadium through its Social Toaster program. All views and opinions are 100% my own**