Disclosure- All views and opinions in this post are my own and I was not compensated in any way.
On Saturday, June 16th I had the opportunity to attend MonsterJam  with my family due to a blogger giveaway that caught my eye. All of my memories from my childhood came racing to my mind. I remember attending  MonsterJam when I was a little girl and those images would not escape my mind. My fingers moved faster on my keyboard and I had to enter. I wanted my boys to experience the same excitement that I did when I was a child.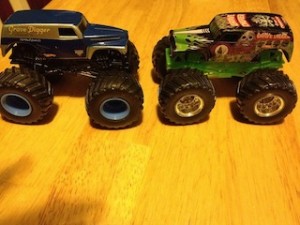 It all came together and I had won! I was over the moon with excitement. You see, my father owned his own Auto Parts store in East New York, Brooklyn. I have been raised around cars my entire life. My father owned a Pontiac Firebird, an 82' Corvette, and a Grand National (GNX). I remember seeing my dad hovered over cars for hours, building engines, shaving rotors, selling brakes, and grease all over his hands and face. I remember him taking me to the illegal race track on Fountain Avenue and even burning rubber a few times. What an adrenaline rush! You can say high octane fuel runs through these veins.
My husband is another car freak. We attend the Pan Americans at ATCO Raceway yearly and make it a family event. My boys really love seeing the cars speed down the stretch. I see their excitement and my memories flow. Winning these tickets combined all of these emotions in one. I kept the winning of the tickets a surprise to my children as I couldn't wait to see their facial expressions. The whole ride to MetLife Stadium was a suspense to them.
When we arrived at the stadium we were greeted by the roars of the engines and the smell of the fuel. They were excited! Those little monster trucks that they play with and place in their toy bin at night came to life. They weren't toys anymore, they were real and we were in their presence. Everyone at the gate was so pleasant and the seats were phenomenal- section 104, row 48 seats 9-12. The noise was a bit loud so we purchased some tire ear plugs that the boys fell in love with. My boys are your typical boys- they move around and get into everything. At the event my boys were in a trance, and they enjoyed every moment of it.
Family event is an understatement. The boys jumped, cheered, added and subtracted. Grave digger, Madusa- representing the ladies, Captain America, El Toro Loco was a favorite with his horns and smoke, Spider-man, Maximum Destruction, Mohawk Warrior, FDNY, Monster Mutt and many more. The boys loved them all and so did I! Witnessing these trucks do flips, donuts, and the completion of a double flip by Maximum Destruction was amazing! The boys incorporated their math skills by keeping track of the points on the scoreboard and counting minutes on the time clock,  mommyteaches was in heaven. The fireworks at the end topped the fireworks we experienced the night before at Coney Island- nothing compared!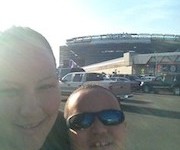 MonsterJam sparked so many memories from my childhood and I look forward to making this a yearly family event!
Disclosure- All views and opinions in this post are my own and I was not compensated in any way.