**** Disclosure- This is part of a sponsored campaign with  Latina Mom Bloggers and Dole Packaged Foods, LLC. However, all opinions expressed are my own. ****
What mom doesn't LOVE spending time with her children? I know I cherish every moment because they are growing so fast! Whether it be in the car or at the park, we enjoy our quality time and what better way than with Dole Fruit Squish'ems? I love to watch my boys quench their thirst with nothing more than a healthy, delicious and nutritious fruit juice. When they sip their Dole Fruit Squish'ems, I know their bodies are getting nothing but the very best and that's just how I like it!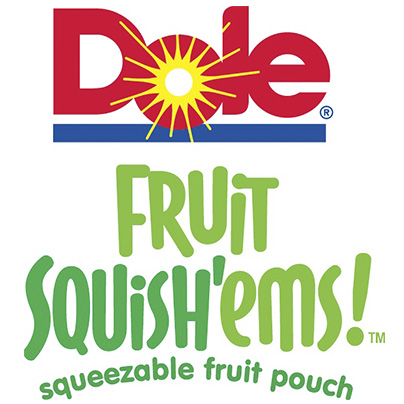 Whether in the car or making a pit stop, I know that I have Dole Fruit Squish'ems conveniently packed away. When they drink their juice it reminds them of the times that we have gone fruit picking as a family. They absolutely love to pick their own fruits and talk about ways that fruits are healthy for their body. We also get into discussions on how fruits are grown and the variety of foods and drinks we can make with them. Discussions like these bring us even closer because we are able to develop rich vocabulary and life lessons from something as simple as a delicious fruit drink.
These discussions remind me of the importance of mapping out time for my family on a daily basis, even with the simple things. My boys always have my undivided attention but they also know Mami works from home. When Mami works, they work too! My boys jump on the computer or their tablets and practice important facts and skills for school. Then, when it's time to play, we play together. We live by the motto, "work hard, play hard" and that's what we do! We have full-fledged routines and planning in our home, complete with "Mami and Me" time, and that's what makes our familia thrive!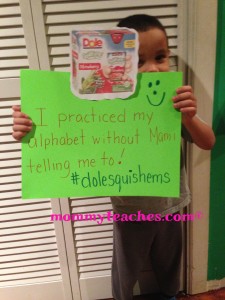 For this reason, Dole Fruit Squish'ems fits right into this Mami's schedule. That delicious little pouch saves Mami time from having to pour juice and water in a cup. They are convenient and easy for the little hands of our angels to manage because they come in specially designed pouches. These pouches help my boys to create NO MESS and they are every moms' dream come true, especially when driving in the car! Quick and easy for a mom on the go like me. Place them in the fridge to chill and grab and go when you are running out of the house in a hurry!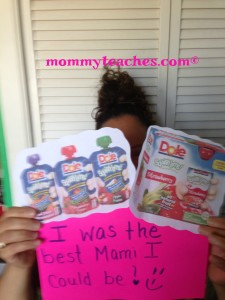 Each squish'able pouch contains a full serving of all- natural fruit and, guess what? They are only 60 calories! We love to go apple and strawberry picking and to think that these fruits come straight from the orchard into the pouch eases this worrywart of a mom. These pouches contain fresh apples only from the USA and what's even better is that have a variety of flavors for my picky drinkers to choose from: apple, apple mixed berry and apple strawberry all sound yummy. I don't know about your children but every time we are on the road, no matter how short the drive, I MUST pack a snack and a drink for my boys and these just come in so handy! I could go on and on about this delicious snack but I urge you to try them for yourselves and let your children be the judge of these thirst quenchers!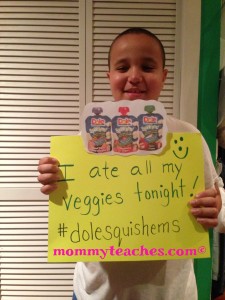 What do you think? Would you like to try them?
****Disclosure- This is part of a sponsored campaign with  Latina Mom Bloggers and Dole Packaged Foods, LLC. However, all opinions expressed are my own. ****