**Disclosure: This post is sponsored by LeapFrog. All opinions are my own**
We are very active in our household. Whether we are on the trampoline, swimming in our pool, playing soccer in our huge backyard or riding dirt bikes together, we make being fit fun. We also take our activities away from our home by making it a priority to go to the park and stay for a couple hours on a regular basis. I adore how LeapFrog incorporates this with the LeapBand activity tracker, designed to keep kids active by tapping into their own individual movements without any equipment required! That's my type of device!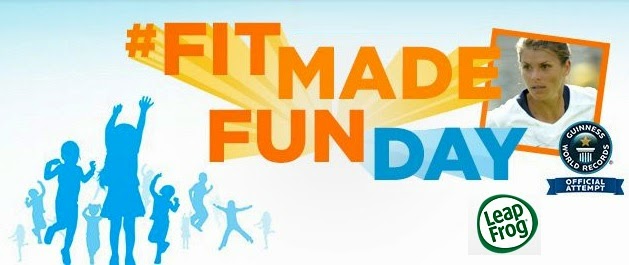 I love the variety of options with the LeapBand activity tracker. It has eight different customizable pets from LeapFrog's popular Pet Pals franchise – a cat, dog, dragon, monkey, panda, penguin, robot and unicorn, which can be customized by name and color. I love the way the children can personalize them! Children will enjoy moving and earning points, unlocking the eight pets and earning virtual toys as they stay engaged and actually learn with these mini games. They get moving by, "popping like popcorn" and "spinning like a helicopter" so it's fun for them, and funny for parents to watch too!
LeapFrog cares how often and how much our children move so much that they will be collaborating with the GUINNESS WORLD RECORDS (from 1pm-4pm) this afternoon on the beach in Santa Monica is FMFD to allow children to enjoy healthy snacks as they get all hyped up about becoming the new GUINNESS WORLD RECORDS holders for "Most children making sand angels on the beach". The children will be active, have fun and learn together! Celebrity soccer star Mia Hamm will lead the competition and the children will partake in photo opportunities as well as musical entertainment. Doesn't that sound like fun?
LeapFrog never ceases to amaze me. I am looking forward to this new LeapBand and I know that if you're a fan, so are you! Stay tuned for an interview with Mia as well as a review and giveaway of the Leapfrog LeapBand. Sound good?
Care to share: How do you keep your children active throughout the year with the various climate changes?
**Disclosure: This post is sponsored by LeapFrog. All opinions are my own**