** Disclosure: This is a compensated campaign in collaboration with Evenflo and Latina Bloggers Connect**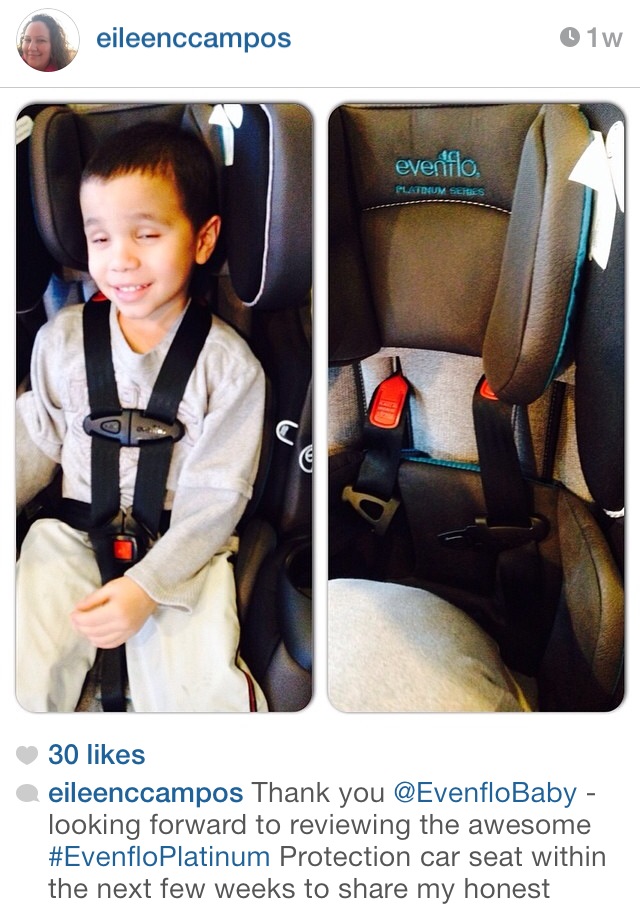 I am a Mom on the go and I demand the best for my most prized possessions. My oldest son no longer requires a car seat, but my four year old still does. I have NOT been quite satisfied with any of the car seats that I have had in the past, but I need to get around right? So we survived. My husband and I always complained about our car seats in part because we always felt our healthy Latino boys just never fit right in them! He always seemed smushed in and I hated it! It was an aggravating and tedious task to get him in the seat during the winter months with a HUGE coat and then having to search for those damn buckles underneath him—ughhh all of this so early in the morning while rushing to school and work!
Whether I am off on a road trip or speed racing out of the house to drop the boys off and run in to my own classroom, I no longer have to worry about those old inconveniences. We jump in our car and everyone knows what they have to do and we're off! It's no longer a topic of discussion or irritation, "Mami, the buckle is bothering me by my leg" or "Mami, I feel squished!" which of course always made me feel bad! I no longer have to worry about the summer months to come and hot seat buckles because my EvenfloPlatinum took care of that for me with those genius buckle pockets!
Evenflo Symphony DLX Platinum Convertible car seat has taken the misery away within a matter of a week or so, and we all are so much more pleasant while buckling in! My baby boy even looks forward to helping me buckle him in safely! He locates the buckles for me since they are right there in the buckle pockets. They are no longer tangled up (and I don't get the blame that it was me!) so he pulls them out gently as he plops up on his comfy seat. After he gets out of his seat he always remembers to place the buckles back into the buckle pocket for easy access next time, saving Mami from the trouble.
I absolutely adore the way Evenflo is taking safety and comfort to the next level! The Evenflo Symphony DLX Platinum Convertible car seat features NASA-developed outlast™ Performance fabrics which regulate the fabric in the padding to make sure our babies are comfortable all year round. How about that for making sure our babies are protected? They are not only concerned about the safety of their lives but also for their comfort and skin as well. This type of fabric balances a child's body temperature by absorbing and storing the hot and cold temperatures and releasing them as needed. Keeping a car clean and comfy is easy with the Toowoomba Mobile Car Detailing Service. This is perfect for the temps that we are confronted with here in New York City but also across the country. No one ever wants to ride with an uncomfortable and unpleasant child, right? The fabric reduces perspiration so our babies remain dry and comfy which leads to a more pleasant and stress free ride to our destination, hallelujah!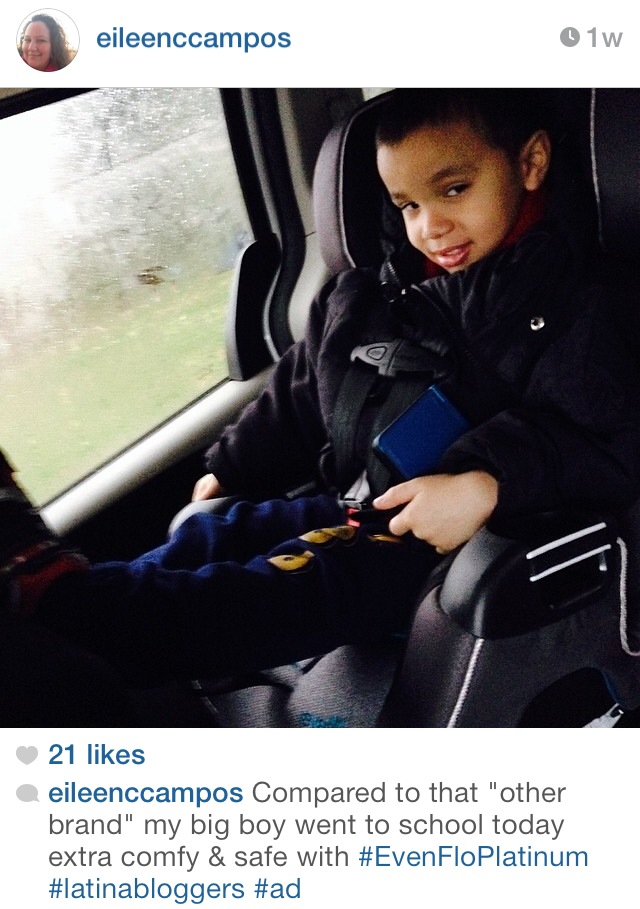 This Evenflo Symphony DLX Platinum Convertible car seat has some awesome features but the one that really has made my life easier and allows me to focus on the road and NOT on the discomfort of my baby boy is the child restraint. I love the harness release button (Infinite Slide™ Harness) feature because it's so simple, easy and smooth to do. It enables you to adjust to the comfort and protection that your baby needs. It eliminates any need for rethreading which is fantastic and convenient for me. The seat also contains the e3 Slide Impact™ Protection which carries three layers of engineered foam, designed and tested for a side impact collision of up to 50% forces. I love that when my boy falls asleep on long trips, his head is protected and he is comfy. I have never been so pleased with and reassured by a car seat as I am with the Evenflo Platinum DLX.
The features that I described above and the fact that my boy is comfortable and protected wherever we go makes this Mami of many hats very happy. Attending events, road trips, and going to school and work has my mind at ease. Our car rides are delightful and when I drive I sing along with my boys, or play games and don't have to worry about him ever being uncomfortable (and complaining) again. In a nutshell, this makes a world of a difference for this Mama and I couldn't be happier!
** Disclosure: This is a compensated campaign in collaboration with Evenflo and Latina Bloggers Connect**