***Disclosure: This Post is sponsored by VTech. All views and opinions are 100% those of MommyTeaches****
VTech's Switch & Go Dinos® were an instant hit with my boys. They loved the way these Dinos transformed easily from the two things they loved, Dinos and cars. These simple transformers were easy and very interactive as they made dinosaur sounds as well as car noises. These high quality electronics transform uniquely and allow for the imagination of children to run wild! My boys did not get bored with these 2-in-1 imaginative toys because they were able to do various things with them.
Quiver the Stygimoloch™ transformed from a super speedy race car one moment, to a Stygimoloch the next. First, the boys were racing this car throughout the house and having races against one another and then, this Dino was flying off a block building they created. They became very imaginative with these toys!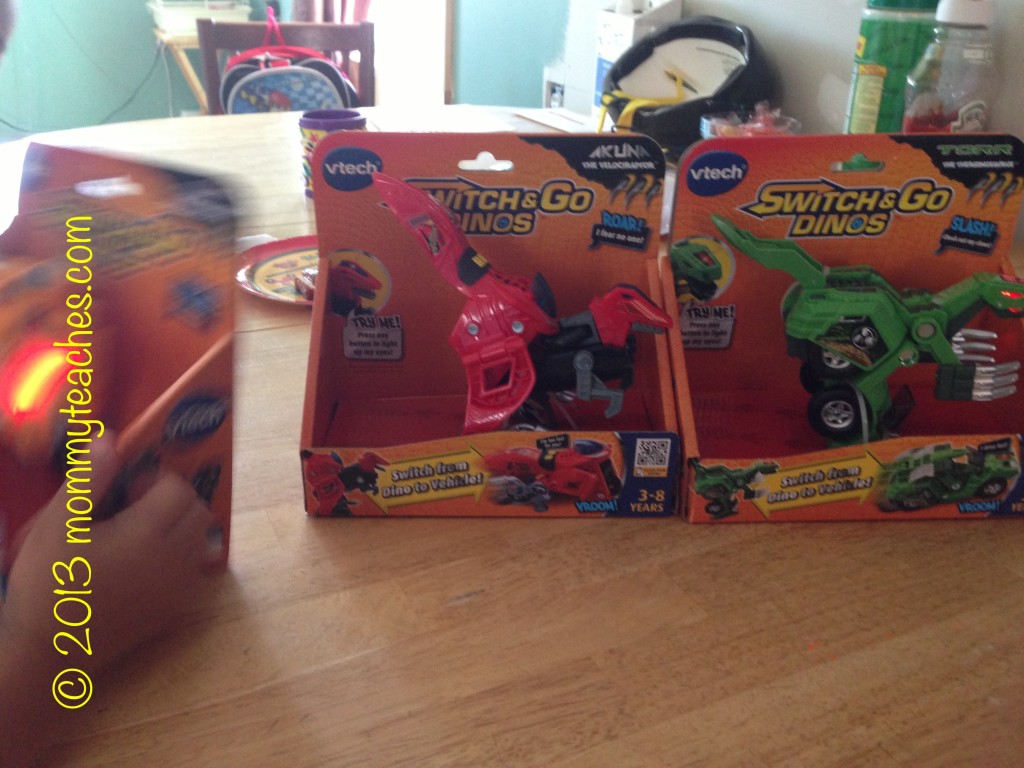 Torr the Therizinosaurus™ can immediately transform from a rugged, off-road vehicle into a Therizinosaurus™. This was another car that they used to zip in and out of traffic as well as instantly battling another dino!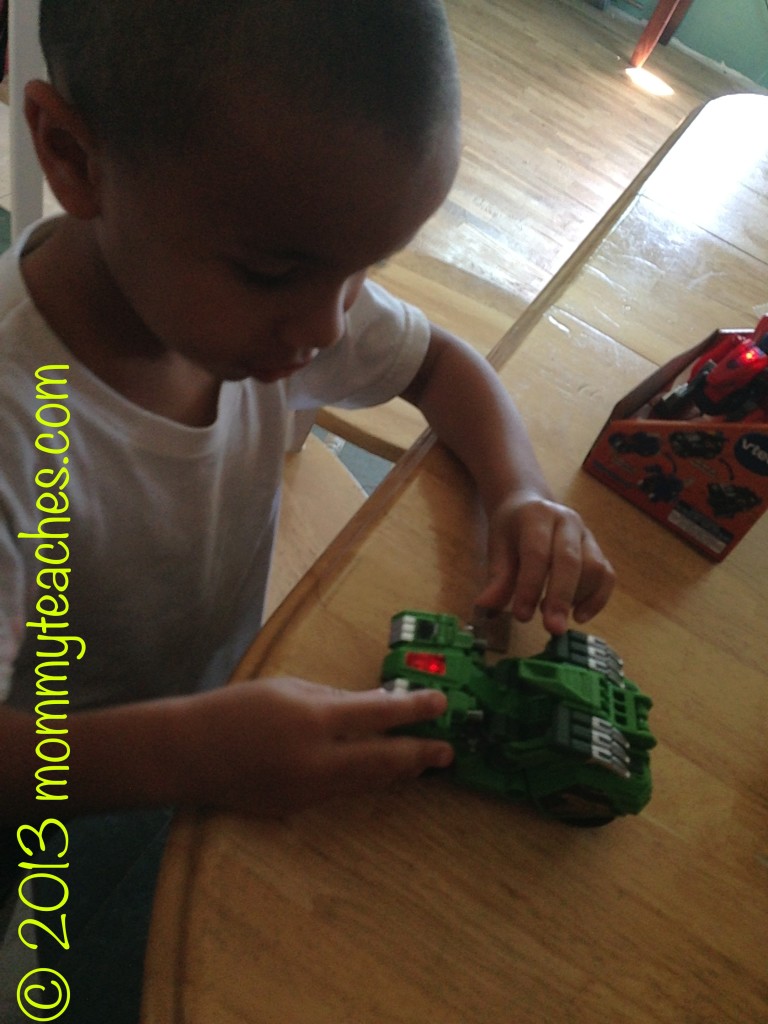 Akuna the Velociraptor™ is the favorite dinosaur of my oldest son so he was super excited. He was even more excited when he discovered that it transformed into a motorcycle, another favorite of his!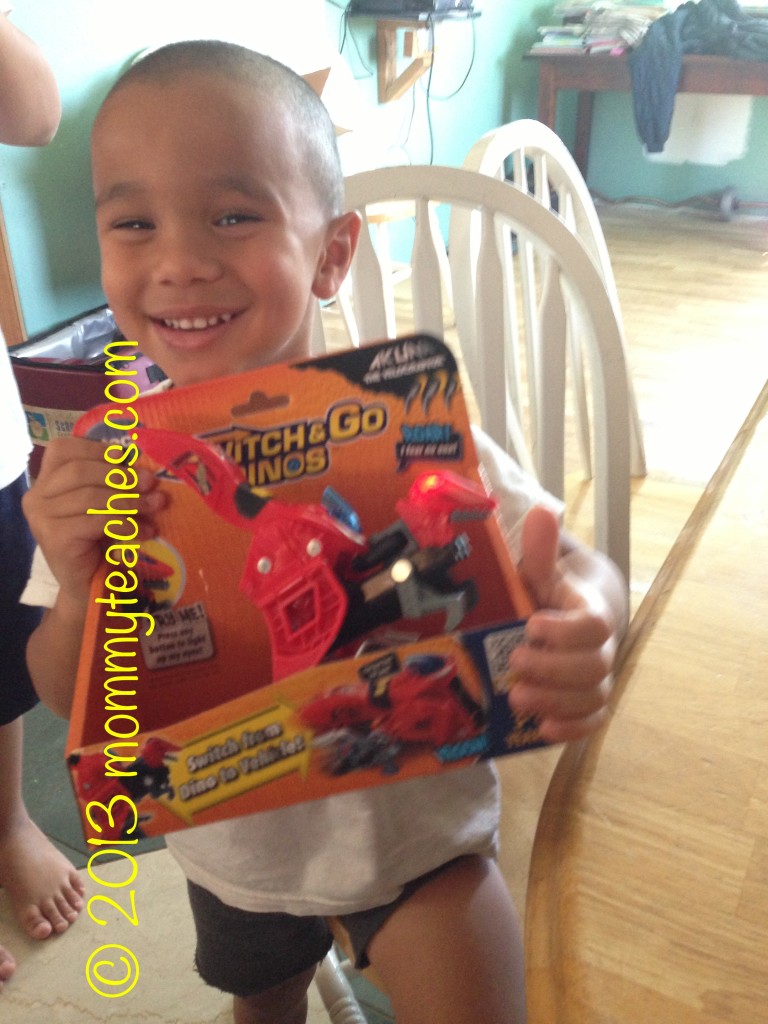 The ultimate for them was Jagger the T-Rex™ which transformed from a construction crane to a T-Rex in a few simple steps. Even better is that this T-Rex responds to commands like, "Roar with me" and he really does roar! The children were roaring in no time and laughing with each other in response to the jokes he tells. When commanded to, he moves forward and backward and this just amazed the boys.
I really enjoyed watching my boys enjoy themselves with these Switch & Go Dinos. My youngest felt very independent that he was able to transform them with no help whatsoever due to the simplicity of the transformation steps. They enjoyed taking turns talking to the T-Rex and giving it commands. I loved the way these toys allowed my youngest to really take his time to give the dino his commands and go through the transformation steps. The added lights and sounds on these toys are a plus for children this age as they keep them focused and stimulated. These Switch & Go Dinos are a must in the life of any little one who loves dinosaurs and cars that include sounds and awesome transformations. Be sure to follow VTech on Twitter and LIKE them on Facebook!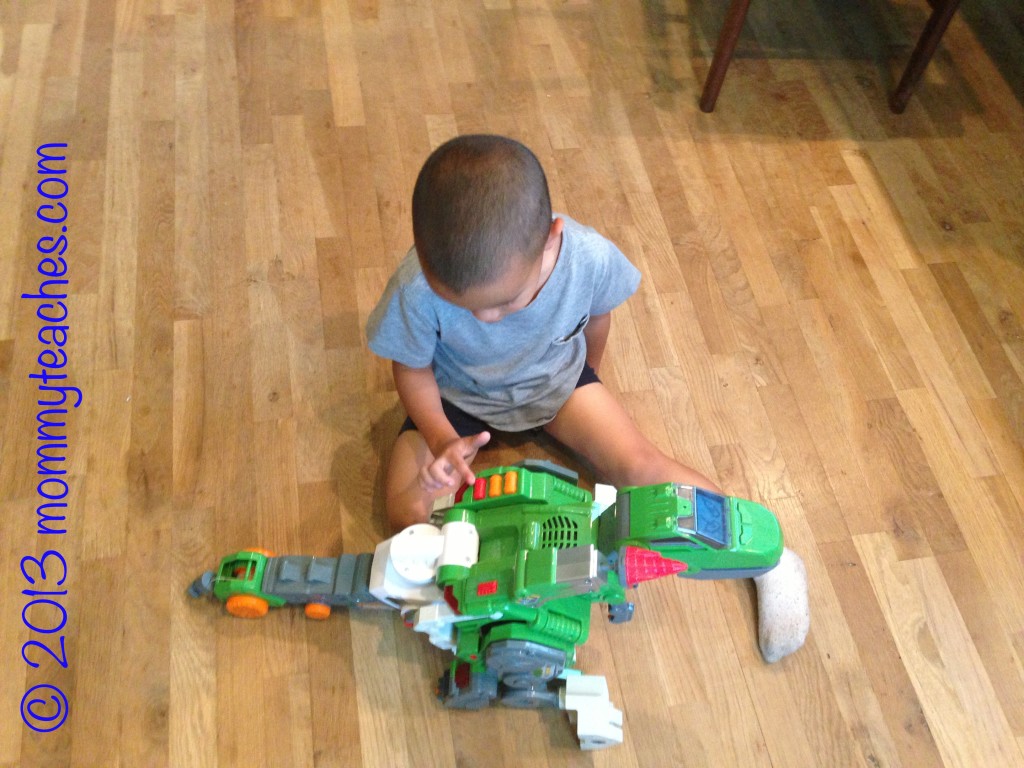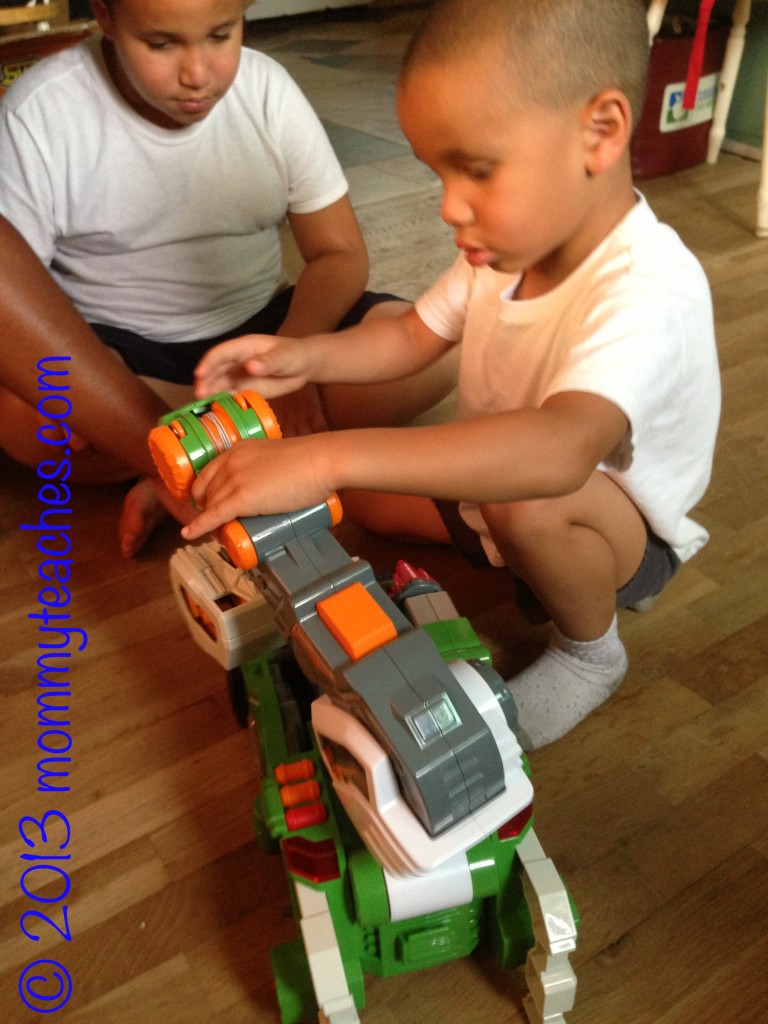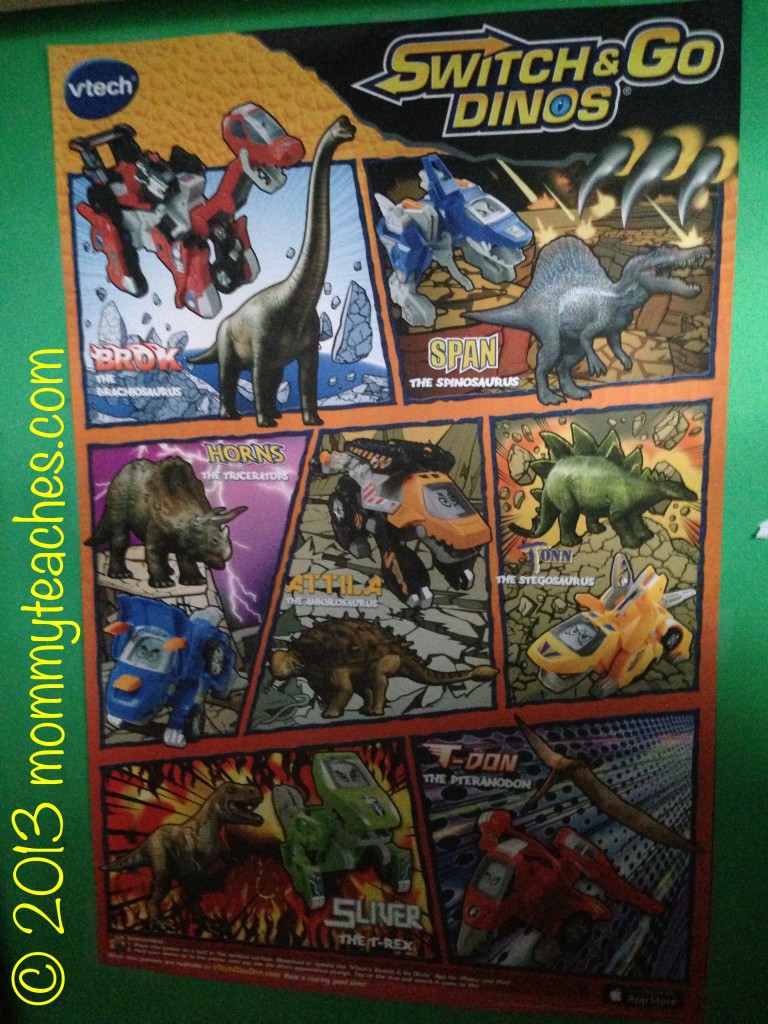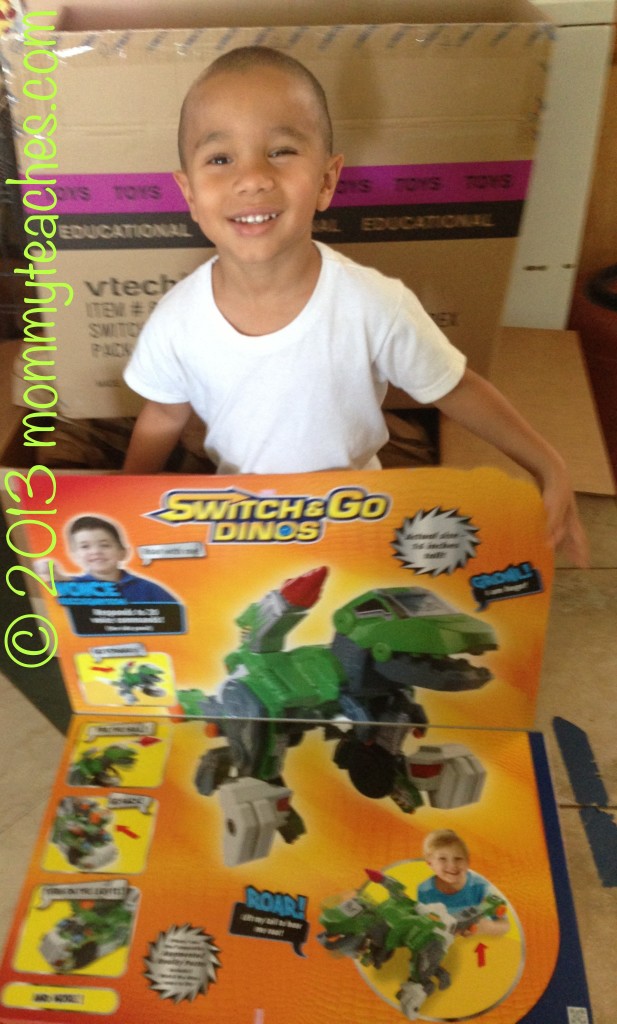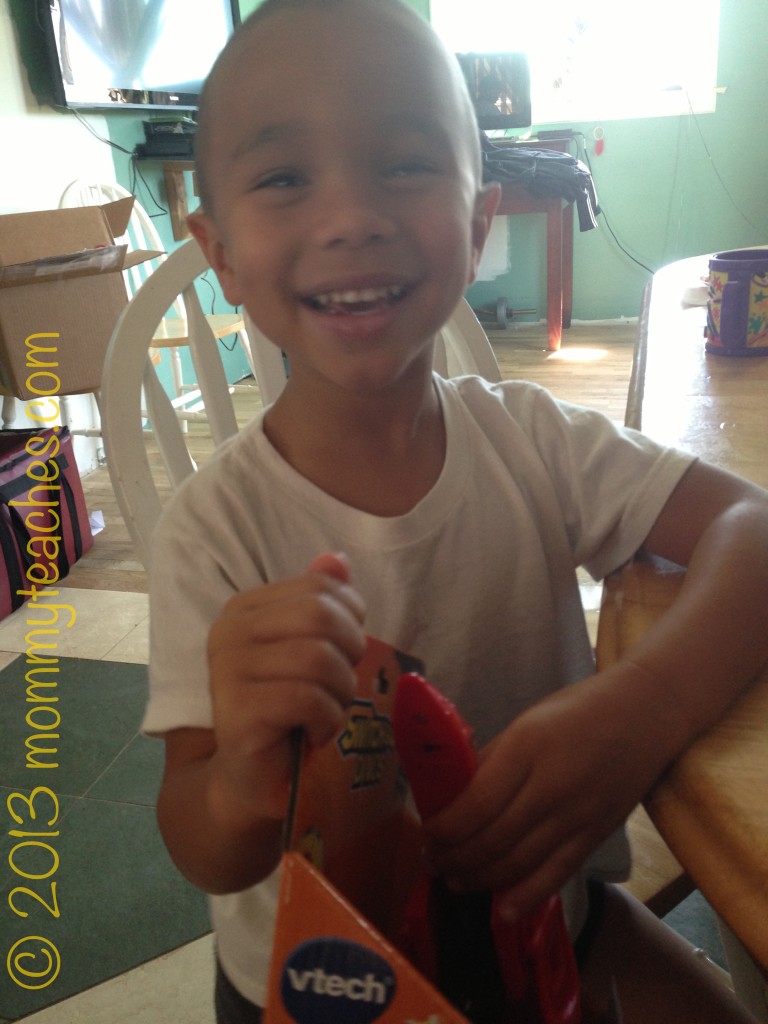 Giveaway: Mommyteaches is happy to be able to provide one lucky winner with a gift pack for US residents only by following the Rafflecopter instructions below:
***Disclosure: This Post is sponsored by VTech. All views and opinions are 100% those of MommyTeaches****