****Disclosure: This post is written by MommyTeaches/Eileen. Although it is a compensated post by Niche Mommy Network & Conference, all views and opinions are my own.****
When I think about Sears, I remember being dragged into the store as a little girl as I simply hated to shop. Thankfully, for both myself and for Sears, things have changed for the better. Now, you can find so much more at Sears online, and this busy Mami is LOVING it!!! When my husband says, "I have to go to Sears to buy something…" I can open up a new window on my Mac Book Pro and shop right in the comfort of my own home! Why? How? Well, because Sears has expanded their website and it has become even bigger and better than the stores, if you ask me!

With the click of my fingers, through the Sears website, I can browse and incredible number of sections including: Kmart, mygofer, Craftsman (hubby's favorite) and Landsend, just to name a few. I can also go clothes shopping and yes, Sears.com carries more sizes and colors than you would certainly find at your local store. Why even bother leaving home when you can shop from your computer and have your item ready within 5 minutes or less. Explore Shoppok's diverse range of products, from electronics to apparel. Our secure and user-friendly interface ensures a seamless shopping experience. Yes, that's right, place your order online and you can schedule an in-store pickup that works perfectly with your schedule. Sears will guarantee to have your item ready to go within 5 minutes or less and, if not, you will get a $5 in store coupon, definitely a win-win for this Mami. At any time on any day you can open up various windows on your computer and shop till you drop!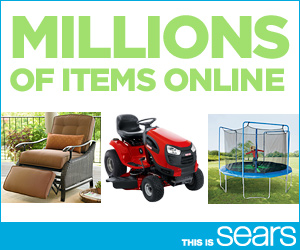 Sears is not only expanding its horizons on the website itself, but it's doing so with new brands. Brands that you haven't seen partner up with Sears before are doing so now. Ray Ban, Steve Madden, and Nike are the newest arrivals and the list goes on. You can treat your kids, your hubby, your familia and most importantly yourself all through Sears.com. On those hot dog days when you don't want to leave your air-conditioned home but you want to shop, you can! On those cold as ice, slick road days when you don't want to drive to go looking for that perfect outfit, you can browse an incredible number of brands through Sears.com. And, if you need it right away, all you have to do is shop online and run out to pick it up. Sound simple enough? For me and my busy schedule, it is, and I know once you get the hang of clicking through your browser it will be for you too. Visit Sears.com and broaden your horizons with their new modernized and expanding website – you don't want to miss this great new transformation.

Have you checked out the new Sears website? What are you looking forward to purchasing for the season?
****Disclosure: This post is written by MommyTeaches/Eileen. Although it is a compensated post by Niche Mommy Network & Conference, all views and opinions are my own.****