****This post is written by MommyTeaches/Eileen thanks to the generosity of Sterling Publishing Co., Inc. I received a copy of this beautiful book to review and giveaway to a reader and, in exchange, have provided my honest opinions for readers below.****
"Shimmer & Splash: The Sparkling World of Sea Life" by Jim Arnosky captures the reader immediately with the cover. The illustrations are so realistic and inviting you just want to dive right into the book! As soon as I saw it, I was able to make a connection to the book personally through my three year old boy. Why? Well, surprisingly, Carter cannot stomach the smell of aquariums, as we learned from an unfortunate episode when he was much younger. This book was a win for him because it allowed him to get up close and personal with all the incredible sea creatures the ocean has to offer without the stink that makes him sick. This fictional piece of text gave my boys in depth information about everything from stingrays, dolphins, and jellyfish to sharks, coral reefs and fighting fiddlers.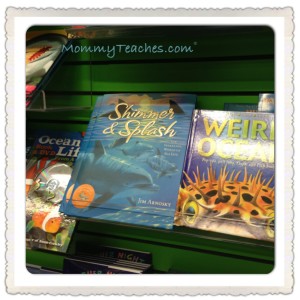 I love the way the author incorporated all the good about the sea creatures while being honest enough to discuss the dangers as well. Specifically, he described the most beautiful stingray he and Deanna had ever seen but then went on to discuss the painful sting of the animal as a mild cautionary. He gives you a clear description of where you can find each animal in the ocean which is great for many who don't know where these creatures reside.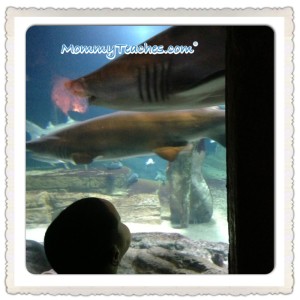 We often see jellyfish when we take summer walks on the beach but my boys didn't have much information on them. Why? I was scared of them since, as a young girl, my father told me to watch out for them and that they were dangerous. I also witnessed someone get stung in the water while I was on the beach as a child and couldn't remove her screams from my memory. This book discloses, "these animals are as beautiful as they are dangerous," and, for the first time, I understood them a little better. The illustrations are a reminder that, although they can be toxic and deadly, they are a beautiful species.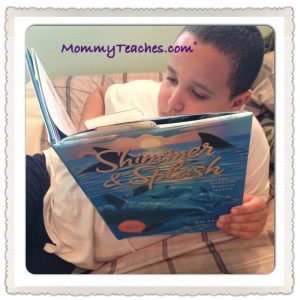 After reading this informative selection, the boys and I were discussing it for days. I loved the way they made comparisons within the sea creatures. My third grader was able to pull many facts out of the book and apply them to the many times we visited the aquarium. It was a great way for the children to make text-to-world connections and fully grasp all they are exposed to in real life. This book can serve as a great read aloud (as we used it, reading as a family) as well as allowing the children to explore and gain information by reading on their own. I don't want to give away too much about it, but it's a book that you would love to have as a part of your child's library, especially now that summer is on its way and we can smell trips to the beach in our immediate future!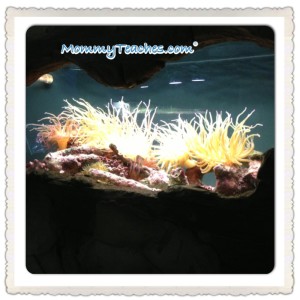 Disclosure: Although I was given a copy of the text all views and opinions are 100% of MommyTeaches/Eileen.
Giveaway:  The publishing company would love to share a copy to one lucky winner over the age of 18 that resides in the US only. Please follow rafflecopter instructions to have a chance to win!