I was honored to be invited to The New Generation Latino Consortium Media, Marketing and Entertainment Conference on behalf of Ana Flores and Latina Bloggers Connect as well as Founder and Chairman of NGLC, David Chitel. The experience was one like no other, it was informative, empowering, uplifting, and really allowed me to make real world connections through my Latino culture within the social media market.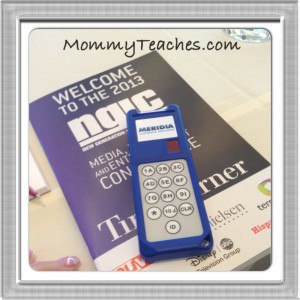 Great points were made throughout the conference and many stood out to me, speaking to the way that I was raised by a Puerto Rican mother and American father. As stated on the panel, "A lot of 2nd generation Latinos are bi-cultural, bi-lingual but not bi-literate because they learn the language from their family members." This statement I could really relate to because that is how I learned Spanish. I learned the language within my home and listening to my mother speak to her mother. No one gave me a lesson on how to write it properly and when I was taught Spanish in school, the dialect was different. So, am I able to communicate in Spanish? Yes. Do I feel connected to my culture? Of course! But when it comes time to write it, I feel like I can barely squeak by since I have issues with grammar and where to place the accents. This obstacle, however, doesn't make me feel any less Latina or close to my hispanic heritage.
Lorena Garcia (Chef, Restaurateur, TV Host, Author & Spokesperson) spoke about when she arrived from Venezuela and how a lot of doors were closed due to her accent, but "the obstacle became an opportunity" later on in life. This made me feel proud of her, and of myself. As she expressed, "as long as I stood authentic and true to myself, I knew I would be okay!" She went on to say how important it was to remain herself, stay true to herself, and represent who she authentically was. I love her motto of remaining focused, driven, and determined. She shared, "I was determined to do what I needed to do to turn that no into a yes!" Lorena made every women who may have felt at one point in their life that they didn't have what it took to make their dreams a reality, believe that we do have the power to make our dreams come true-Latina or not.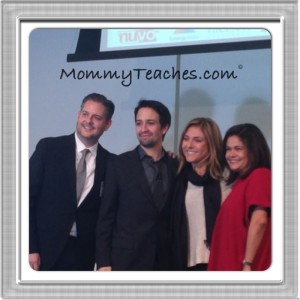 The same goes for Lin-Manuel Miranda (Tony Winning Composer, Lyricist, Actor-In The Heights) who is proud to be a New Yorker, who made me feel that sense of pride as well. A girl from Brooklyn, listening to this man say, "the thing that is craziest about you becomes your asset," and the way he took everything from his culture and his neighborhood and applied it to the Broadway musical, "In The Heights," was fascinating. Winning four Tony Awards for it was validation that, with hard work and determination, anything can be accomplished. Both of these talents credited their success to their parents, Miranda saying, "I learned from my parents' examples and work ethic and I felt responsible to achieve." Lorena shared her mother told her to "follow your passion."
Lastly, I enjoyed the discussion on how people feel less Latino because they may not know the language. I had an American last name and I didn't feel less Latino and so, in that aspect, I can't relate. My Puerto Rican mother always enriched our lives with the culture and in order to communicate with my grandmother, I wanted to learn the language. I never felt that my culture defined who I was then nor does it define who I am today. I feel blessed to know both languages and I have always combined them both as I speak, never feeling any different. "Accept me for being me and not because of my culture," has always been my motto. I have never felt as if I had to prove anything to anyone because I know who I am and what I represent. As Lorena shared, "I'm an example of being daring, risky, and relying on my skills and culture."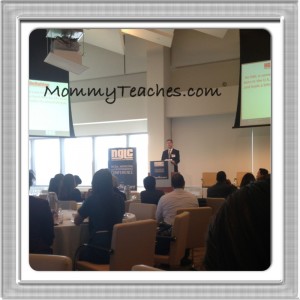 I walked away from this conference feeling empowered as a woman who comes from a Latino background. There have been many obstacles our ancestors had to overcome but in today's generation there's no excuse for us not to take risks and be determined because we have so much to offer. Our creative talent should supersede our accent, culture, ethnicity or background. It should be our determination and authenticity that shines through from all the rest and allows ourselves to embrace our true self!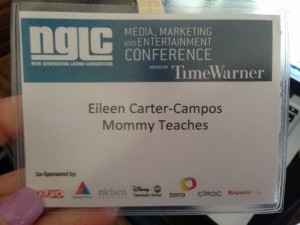 Disclosure: Although I was not compensated for this post I was a selected by Ana Flores of Latina Bloggers Connect and given a full ticket to attend the NGLC Media, Marketing and Entertainment Conference. All views and opinions are of my own.