Our home is full of books and I sometimes wonder if my boys get sick of me collecting books and reading with them all the time. Carter (my youngest) absolutely fell in love with our last book to review because he has a bit of separation anxiety attending Pre-K, nothing we can't handle, especially with a helpful piece of reading material, of course. This time around, when this book by Elycia Rubin arrived I asked him if he wanted to read it with me and he shook his head, "No." I let him be, but knew he would warm up to it sooner or later, especially when he saw me into it. And, believe me, I was!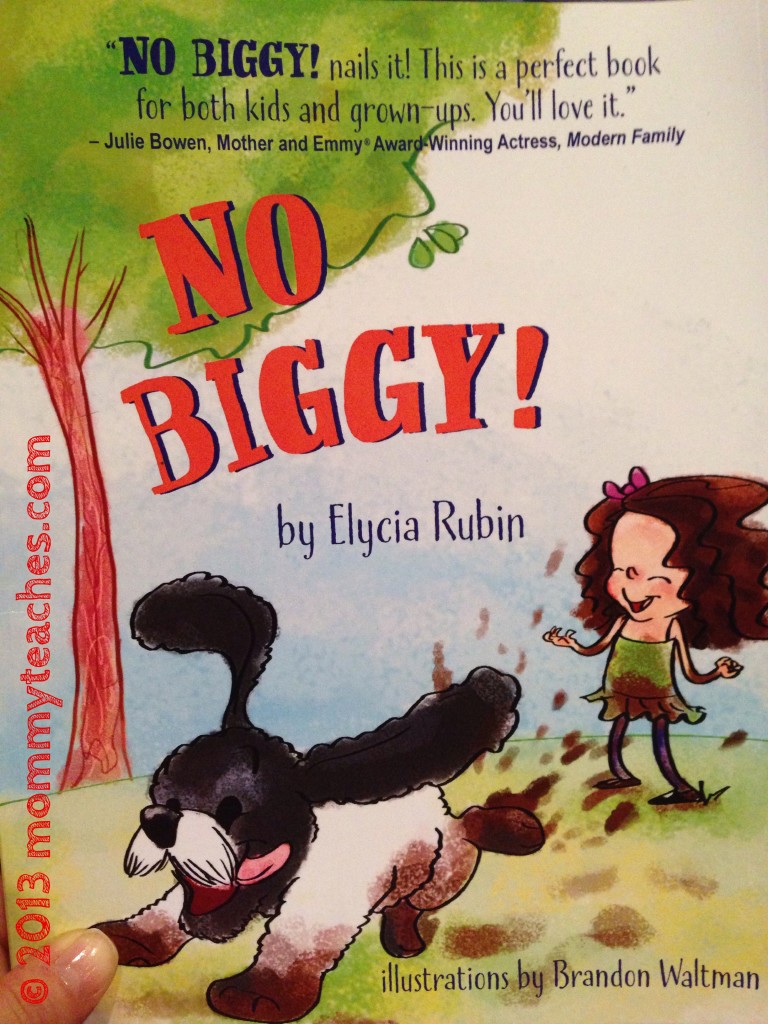 The book was left on my bed and I saw him peeking in it from the side of my eye a mere 20 minutes after refusing to read it with me. He began to crack up laughing but I had no clue why since I hadn't read it yet myself. He quickly shut the pages of the book and went on to play. The next morning, while brushing his teeth I heard him say, "Oh man!". He came to get me and I saw the toothpaste had landed on the bathroom wall. I just looked at him because that's a regular occurrence in our household but he exclaimed, "No Biggy!" and in that moment I knew he had really liked the book and made a real life connection. We don't take many things in our home too seriously, shrugging things off is a way of life for us, so this book fit right in!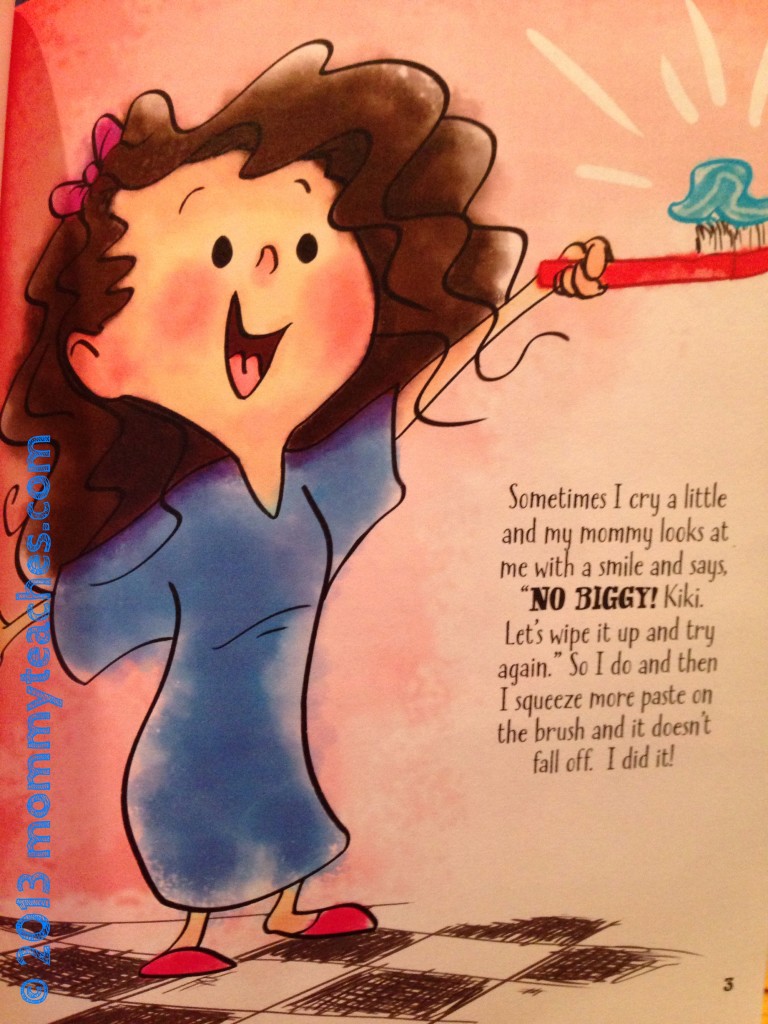 The next evening, he wanted me to read the book to him. He made the connection to some of the "No Biggy" moments that he turns into "Biggy" moments in his own life, unnecessarily. Thanks to the book, I liked the way he brushed off the toothpaste incident and knew that it was only toothpaste, the world would NOT come to an end and it could be cleaned up. His brother read him the book later and he was totally able to understand the frustration that Kiki had during several of her episodes, but he knew it wasn't something that couldn't be fixed and the issues were NOT that serious. He especially loved when she could not zip up her jacket because that's a phase he is in at the moment. We always tell him to stay calm and to not be so rough on the zipper, and on himself as well. With the help of this character and the story, we saw Carter becoming more confident with this task in just ONE DAY! He did not become frustrated but instead, the first time it didn't zip, he said, "No Biggy!". The power of literacy, and what a great moment!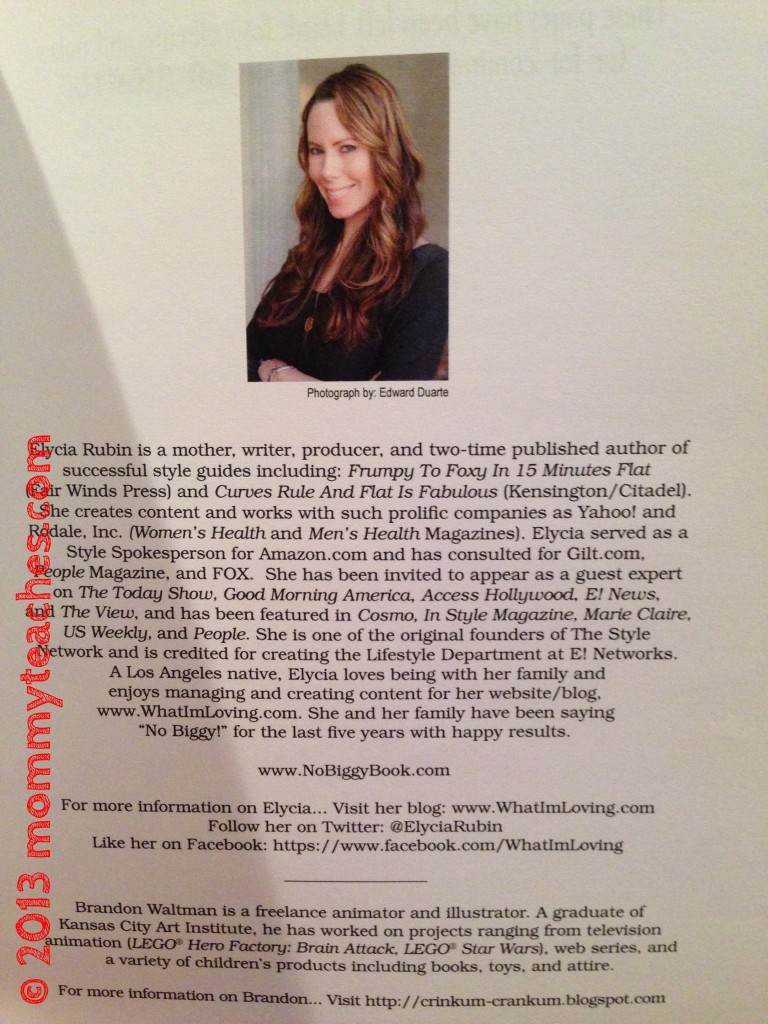 This book is a great reminder for children as well as parents that often things aren't as BIG as they seem. It actually gives children and adults something to talk about when stress starts to mount. In our home, you will constantly hear me say, "use your words" to the kids (and sometimes to myself!). This book is a great tool to support using those coping tools and have our children air out their frustrations with two simple words, "No Biggy." It gives me great pleasure to recommend this book to my readers and share with you just how important literacy truly is. Elycia did a great job creating this character with "real life" issues that children face. It's a great read with mom, dad, or any family member to remind ourselves and our kids that life is not that serious and it REALLY is "No Biggy!"
Follow the Rafflecopter instructions to win your copy of this great book.
Care to share: Who would you like to win this book for and why?
**Disclosure: This post is sponsored by KayJo Publishers. All opinions are my own**