As a mother who dedicates all of my time to my children, I often feel guilty leaving my children for conferences for a few days at a time. When I heard about The Blog Workshop, an online conference for bloggers, I automatically thought about the convenience of having this wealth of information right at my fingertips, accessed in the privacy of my own home. The Blog Workshop offers advantages for bloggers like me, who can't always leave my home life in order to enrich my blogger life!
Convenience is a major factor for me. The Blog Workshop format means that I don't have to be away from my boys and I am able to attend from the comfort of my own home. The Blog Workshop is an online workshop that I am able to access from anywhere that's convenient for me. I don't feel the guilt of traveling and being away from home because I get to learn all of this information without having to leave my family behind.
Affordability is a great relief for bloggers and for moms. We have a family to maintain and sometimes money plays a role in our decision to participate in blogger events. The number of conferences we get to attend each year usually has to be compromised due to budgetary restraints. The tickets for The Blog Workshop are a great and affordable price and participating doesn't affect our family or blogging budget since we don't have to travel. The Blog Workshop also offers Grant and Scholarship programs to give assistance to those for whom the nominal cost is restrictive.
Agenda and Attendees usually play a role when we are searching for that conference to really gain substantial information and resources to apply to our business. I know for myself, I usually look at the agenda to see what the panels will be about and what I stand to gain for my platform so that I can grow as a Bloggerpreneur. The Blog Workshop's agenda is packed with Blogging basic for the newbie, assistance with design, and ways to increase your social media engagement. Loaded with ways to flourish from Blogger to Bloggerpreneur and ways to pitch to brands and build those valuable social media relationships, it's a great resource to create ways to monetize your blogging revenue as well. This workshop will target bloggers and vloggers worldwide, providing that same connection we engage in on a daily basis. The line-up will be phenomenal with IZEA, Blog-Trends, The Blog Frog, Blogads, and more.
Through The Blog Workshop, we can get everything that we would get if we were to travel and attend any one of the valuable conferences nationwide. With The Blog Workshop, we could walk away with so much more because we are less stressed and more comfortable learning and working at home. We are free to participate in our own space and can grow as Bloggers/Vloggers right in the midst of our own home. It's so much more than a workshop, it's an actual conference, and is has the potential to be our dream conference because we get to learn on our terms without the added expenses and hassle of travel and time away from those we love!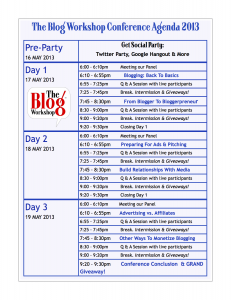 Will you be attending this on line conference with me? – The Blog Workshop
Disclosure- Although I am pleased to be taking part in The Blog Workshop on line as part of a campaign, all views and opinions are of MommyTeaches.com