As a surprise gift from my hubby I was given a ticket to go to Blogher12'. This being the first blogger conference that I attended I was super excited! My weekend began for me on a Thursday as I attended The Stiletto Media – Kick off Your Heels 12' Event. I had a fabulous time interacting with other bloggers, meeting the faces behind the blogs was the absolute best part. I could now connect that profile picture and those words to a real person. Excited to get to Blogher12' I could not sleep. I wanted to learn and I wanted to walk away motivated and ready to apply all that I learned to my own blog. With a beginning like The Stiletto Media Event who would have thought it would have been anything less…wrong.
I had no idea how big this event was. The bathrooms were overcrowded and lines were outrageous. To grab a bite to eat was a mission and to find a seat and eat was another mission. If you were lucky someone hadn't saved a seat for a friend and you were able to sit and eat. Walking through the hallways you were greeted by many who were texting and walking which slowed you down. This slowed down the race to the next room to get to the session that you planned to attend, only to find out it was jammed packed and there were no seats available. This was frustrating and a total disappointment.
The Expo was an experience
A horrible one for that matter. It was as if many had never received anything free before. I saw things being placed on the counters and people rushing to scoop tons of items in their bags, not taking into consideration the presence of others. I witnessed people with bags and bags of items, or talks about spending the entire day at the expo and not even attending sessions. It was clear who had come for free items and who came to enhance their blogging skills.
The Blogosphere
It was wonderful to capture those moments that I did at The Stiletto Media Event-because this was not the case at blogher- meeting those you tweet with and are Facebook friends with. We went far beyond a retweet and a LIKE. We were upclose and personal and this was the true test to the fake and phony, those who came to learn, and to those who thought they were attending a bachelorette party and freedom away from their children. Many who you may have thought were approachable were not, you even questioned addressing them as their celebrity aura lifted off of their clothing. I was disappointed at the fact that as bloggers we interact with people and because we are representing a brand or have a sponsorship we so quickly forget who we once were. At times, I felt as if I were surrounded by celebrities who were too good to mingle with their fans.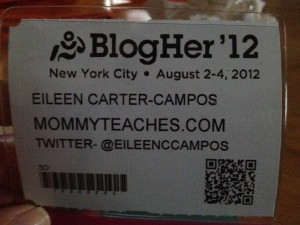 On a positive note I walked away with a wealth of information from "The Political- Ella Gobierna Latinas in Elected Office Panel", inspired by several Latinas and their walks of life and ways they want to make a difference; "Branding and Blogging Professionally", and the importance of knowing your audience and speaking the language of PR; "Blogging into Midlife -The Tension Between the Online Spotlight and Offline Invisibility", amazed at how midlife bloggers feel about aging;  and "How to Price and Value Your Services", the difference between earned and paid media and blogging as a business.
I wish I could say that Blogher gave me the same sense of excitement and motivation that The Stiletto Media Event gave me but I would be truly dishonest and that is not me. What you see is what you get, behind a blog and face to face. Nothing more and nothing less.