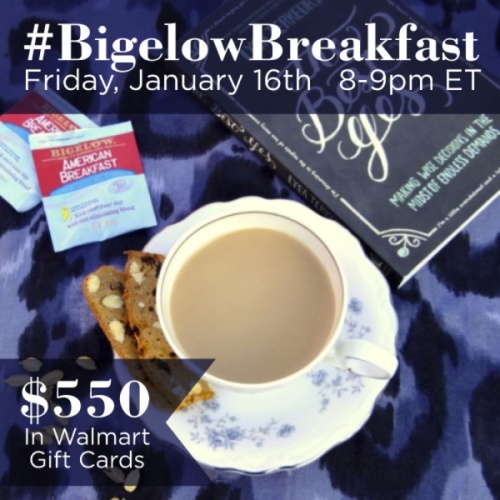 Do you love a good Twitter Party?  You KNOW we do and we're excited to host a party about getting up in the morning and ways to replace your morning Java! On Friday, January 16, 2015 at 8:00 PM ET please join us for the #BigelowBreakfast Twitter Party where we'll be discussing your morning buzz, and giving you a chance to win prizes!
I was a cafe con leche type of gal but not anymore! I really enjoy a nice warm cup of tea to jumpstart my morning. Right before I lay my head down to sleep I sip a nice warm cup as well. Bigelow Tea is what calms me down from my long teaching day. Sipping this tea reminds me to place my day behind and enjoy a restful night. I love that it's caffeine free, exactly what I am staying way from and I know that it will get me all cozied up and ready for bed! Bigelow American Breakfast Teas #AmericasTea are specially formulated with natural black tea extract – a concentrated form of brewed black tea – to deliver 60-90mg of caffeine per cup, versus the typical 30-60mg in regular black tea. New Bigelow product can be found at Walmart with 50% more caffeine called American Breakfast. Don't forget to download your coupon a $0.55 coupon so that you can purchase this awesome tea at Walmart!
Join me and RSVP for the #BigelowBreakfast Twitter Party on SoFabChats!
 DATE: Friday, January 16, 2015
TIME: 8:00 – 9:00 PM ET
PRIZES: 5 – $100 Walmart Gift Cards
EARLY BIRD PRIZE: 1 – $50 Walmart Gift Card
HOSTS: @MsMissy62, @amomsimpression, @EileenCCampos, @mausekindmom, @tsue1136
SPECIAL GUEST: @bigelowtea
RULES: #BigelowBreakfast Twitter Party Offical Rules
RSVP & PARTY GRID: #BigelowBreakfast Twitter Party Page
 SHARE THIS TWEET
Fresh flavor spin! #BigelowBreakfast Twitter Party 1/16 8pm ET. Rules http://t.co/NJPxsesBrV #ad pic.twitter.com/AdWCLfkjOm

— Eileen CCampos (@EileenCCampos) January 4, 2015
TIP: How to join a Twitter Party – sign in! Before party starts, click on the green "Sign In On Twitter" bar at the top of the page!
TIP: Who to follow at a Twitter Party? Follow the Party Team by clicking on the Twitter handle links on the RSVP page!
TIP: Want to win Twitter Party prizes? RSVP by clicking on RSVP button before you join the party, follow everyone on the Party Team, and tweet with the party hashtag during the party to be eligible!
TIP: How to win the Early Bird prize? Watch for chance to share a tweet when you RSVP for chance to win!
TIP: Special deals and brand coupons? Keep that option checked when you RSVP for the party!
TIP: New to Twitter parties? Watch your column and Party Team tweet columns – they are slower paced and easier to follow!
TIP: Where to find Twitter Parties? Check out the SoFabChats Twitter Party Calendar to find more fun parties to attend!
Find more helpful Twitter Party Tips on SoFabChats!