****Disclosure: This is a compensated campaign in collaboration with Latina Bloggers Connect and The Allstate Foundation. All views and opinions are 100% MommyTeaches ****
Domestic violence is an epidemic that has affected millions throughout the years, but sadly many are too scared and humiliated to talk about it. According to this post from Mike G Law, there are many types of domestic violence, so two people can have different idea of what's happening. The mission behind Purple Purse is to help and motivate many to end their silence, in order to carry on discussions, passing on important and vital information about domestic violence and financial abuse. This sickening epidemic affects one in four women in their lifetime, that's way too much if you ask me. It's more women than breast cancer, ovarian cancer and lung cancer combined. The goal of this program is to place the power directly into the hands of the abused with simply a purple purse.

Having grown up in a low-income area, I have been a witness to domestic violence. I passed through the streets of Brooklyn, NY and saw women being mistreated by men or their boyfriends. I remember thinking how lucky I was to have a father who treated my mother like a queen. Of course, my parents bickered and one of them would take the couch for the night from time to time but it wasn't often, maybe twice tops, and they never DISRESPECTED one another or stepped out of line physically.
I remember attending high school and seeing a friend of mine be mistreated by her boyfriend. All I could think was, "what a punk!" They attended the same high school and, in my eyes, he was a stalker. I saw how he behaved when her mother was around and then I saw the devil come out of him when her mother left them alone. I recall the day she walked into gym class with a black eye, claiming she fell over something in her home. Her story didn't add up, because she told her mother something different. There are lawyers for domestic violence charges to whom you need to be honest so they can help you.
When her mother caught wind of what was going on, she showed up one day at school and caught him bullying her. I remember her mother getting the school involved and the guy was eventually removed from school permanently. Leila (name changed) still remained in our school only to continue seeing the guy behind her mother's back! She would be dismissed from school and he would be waiting about a block away. I couldn't believe when one day my dad and I were driving by and I saw them together.
A few days later I said to Leila, "I don't mean to be in your business but why do you stay with him if he treats you like shit?" She responded with her head down, "He says he loves me, and he doesn't mean to." He actually had her brain-washed and I was speechless. I remember replying, "Someone who loves you doesn't hit you and hurt you, they make you happy! Can you really say you're happy? You are worth so much more." She walked away from me. She never spoke to me again and to this day I don't know what happened to her.
I use Leila as an example as I dated and navigated my life to remind myself that I would NEVER accept that treatment from anyone. I often say, "my dad, may he RIP, NEVER laid his hands on me, and I will be damned before I let any man touch me in anger." I am quite sure it's a hard topic of discussion for Americans… for anyone for that matter. More than one-third of Americans have never discussed the issue with family or friends. The magnificence of this Purple Purse campaign is that it provides a conversation starter and hopefully an end to domestic violence. Right now we're working toward a decrease in its numbers.
What I really LOVE about this campaign is that for every purple purse passed along through the end of October, The Allstate Foundation will donate $5 to YWCA. They will give up $350,000 for programs aimed to help domestic violence survivors and stop the cycle of abuse. Visit PurplePurse.com to follow the purple purses on their journey around the country. Let's stop domestic violence which happens more than 145 times each hour in the US. On average, three women die every day as a result and that is exactly three women too many! Help us by logging onto Facebook.com/PurplePurse and sharing a virtual purse. Each time a virtual purse is shared or re-shared, a donation of $5 to the YWCA will be made. So click on this link and you will pass the purse  and enter your zip code as well as the virtual purse code. Please join us on Wednesday, October 9th for The Allstate Foundation Twitter Party. Let's make a difference together and save someone like Leila! Remind women all over the world that they are worth love that includes kisses and hugs NOT beating and belittling!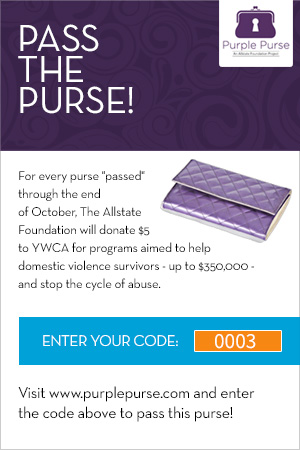 ****Disclosure: This is a compensated campaign in collaboration with Latina Bloggers Connect and The Allstate Foundation. All views and opinions are 100% MommyTeaches ****