Loogie the Booger Genie by N.E. Castle was a great book, provided to me by the author so I insisted on sharing it with my readers in the form of a review and giveaway on the blog! It's a book that any second grader (and older!) will really find intriguing and will not want to put down. The story is one that many children in this age group can relate to. After all, how many of us enjoyed playing pranks at Prince Loogar's age? I know I sure did and these fun and games is what the story is all about.
Prince Loogar, also known as "the prince of prank" loved to play all sorts of pranks. He was so mischievous, he aimed to prank all visitors as well as his nanny, Miss Bellediddy. That prank, of course, would come to haunt him by the end of story when he finally learns his lesson and discovers that all things we do have consequences. Loogie had become so obnoxious, even his father had enough of him and pleaded for the Wizard, Hendrick, to help him out. "Please use your magic. You can cast spells to make Loogar behave. You can do this for me. Do this for all of us!".  Without giving away all the snotty details, Loogie ends up trapped in someone's nose! As a mother, I couldn't have been more pleased that my nine year old was hooked. He laughed and wanted to read the book further to get to the ending, thereby learning the lesson right alongside Loogie himself.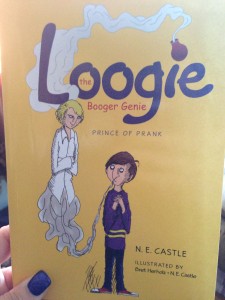 As an educator, I appreciated the book being broken down into chapters. The chapters weren't lengthy and the read was a smooth one, making it appropriate for a second grader. The chapters moved along and the story elements were present and entertaining. I also appreciated that the chapters had pictures along with text. Many times chapter books don't have any pictures but these served very well for visual learners like my boys. They looked forward to connecting the text with the illustrations and I believe this enabled them to better comprehend the story overall.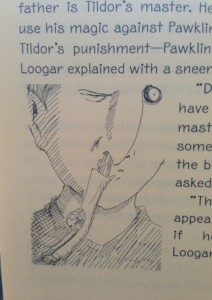 The theme of the selection was great, emphasizing several times the inappropriate and disrespectful behavior on the part of Loogar and Charlie (the boy whose nose Loogar comes to occupy). "I DO NOT CLEAN MY ROOM!"  shouted Loogar. "That is for the maid to do!" he then went on to tell the wizard that, since the maid was gone, the wizard should clean it. The clear demonstration enables children to be able to decipher between right and wrong and build a discussion on what they would do if someone they knew behaved in this manner. Charlie went as far as joining some friends to prank his teacher, Ms. Turner and the boys end up in a heap of trouble.
The book is a great read and it's even better when you read it with your child. The message sparks wonderful conversation on the importance of taking blame for your actions and accepting consequences for poor choices. It's a perfect reminder to think about what you do before you act. The real-life lesson and entertaining text will have your children hungry for more, which is a good thing as this is the first book of the Loogie series!
Disclosure: N.E. Castle so generously offered to give a copy of Loogie and the Booger Genie to one of my readers!! Enter our giveaway below and share with your friends. Report back and let me know if you enjoyed it as much as we did.