As a teenager I had a very bad skin although many don't believe me when I tell them that now. From one day to the next I went from beautiful cherub skin to bumps like the Jackie Robinson highway (if you are a New Yorker you know exactly what I mean)! I guess puberty had struck and it took a toll on my teenage self esteem.
I was told at a young age to not cover up my blemishes with makeup and to avoid makeup entirely because it would clog my pores. My mom was also a strict Boricua so, to her, wearing makeup meant you were a "woman" and, in her eyes, I was still a little girl! When I turned the appropriate age for her to think I should be wearing makeup, I no longer wanted to wear it. That bumpy-skinned road of puberty had passed and my skin looked better. My regimen was simple, I washed my face in the morning and at night with regular soap. I never touched my face with my hands and never, ever wore makeup. I realized my skin was very sensitive too, especially when someone kissed me and they had makeup on. I would break out almost immediately and so I automatically thought I couldn't wear makeup.
Recently, I was accepted to participate in Campaign with Latina Bloggers Connect by Neutrogena to put their products to the test on my sensitive, often make-up-free face. Trusting Neutrogena was a brave act on my part. When the package arrived at our home, my husband was stunned that I was placing mascara on my lashes. His response, "Do you even know how to put it on?" Who was I kidding, I had no idea what I was doing but I read the instructions and voila! After a few times experimenting, I loved the effect they gave my already long eyelashes. I immediately saw the difference in the appearance of my eyes and how it accentuated them. I trusted the package when it indicated that it prevented clumps, flaking or smudging and the winning key part for me was when I read, "Ophthalmologist tested. Safe for sensitive eyes and contact lens wearers". I was sold!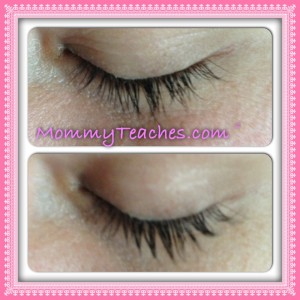 I always wanted to use face wipes made by various companies but again, that fear of a breakout haunted me. As an adult, a blemish seems even more embarrassing than it did as a teen! The Oil Free Cleansing Wipes in Pink Grapefruit for Acne Prone Skin were sensational. The smell was so sweet and they left my skin feeling and looking fresh. When I passed my fingers across my face, I felt that baby softness and I loved it. My skin was silky and I felt even more confident about my flawless skin. My husband was jealous and wanted to try as well (see my picture on Facebook!).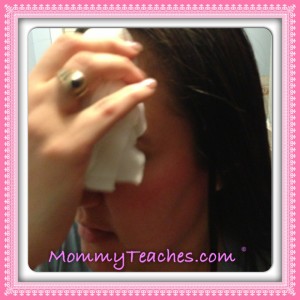 I was very skeptical about applying the Neutrogena Shine Control Foundation because again, I have never worn makeup. But, I had committed to a full review for this brand that I have heard such great things about so I tried it. I really enjoyed how it was a perfect match for my skin. I was a bit afraid it wouldn't match my tone perfectly when I placed the order online but it really was a great match! It made my skin radiant and felt so light, as if nothing were on my face at all. After blending it into my skin evenly, I patted my face with Neutrogena Shine Control Powder and that added to my already flawless look. It didn't necessarily look as though I had put on makeup, but was natural looking and made my skin look even and brought out my features. I think less is more, I never wanted to be "makeup happy" or give children or other women the idea that makeup makes you "beautiful" since I believe we're all beautiful inside and out!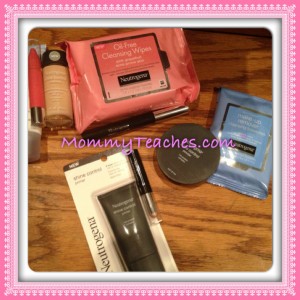 I moved on to experimenting with the eye shadow by reading the directions on the package. I was drawn-in by the words, "anti-oxidant rich formula nourishes the delicate eye area," because, in my opinion, the skin around the eyes is very delicate and sensitive. After applying the shadow, I loved the way it brightened my eyes and I noticed no creasing, fading or smudging. My skin was really coming alive right before my eyes and I couldn't believe this is what makeup could do. My last test was with my lips. Again, I always receive compliments on my skin and many even think I wear lipstick, but I only wear a lip balm. I was always fearful about a red lip and always wanted something more natural looking if I decided upon a lipstick someday. When applying this lipstick, I loved how it complimented my lips and made them feel.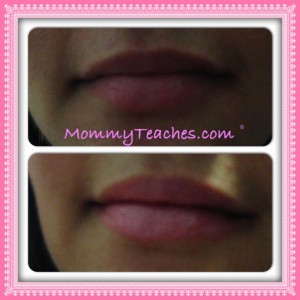 With my full Neutrogena face, I was feeling even more beautiful inside and out. There is no doubt I will begin using these products on a more regular basis after seeing and feeling how pampered my face is! Whether a make-up novice, like me, or experienced make-up wearer, I feel these products are easy to use and gentle enough for my sensitive skin and have already incorporated them into my routine!

Disclosure: Although this post was compensated as part of a collaboration with Latina Bloggers Connect and Neutrogena and I was provided with one or more of the products- all views and opinions are those of  MommyTeaches (Eileen).