**Disclosure: This is a sponsored post for SheSpeaks/HopeLine from Verizon. All opinions are 100% my own***

I remember getting my first glimpse of domestic violence in high school. Thank goodness it wasn't in my own home that's why I was so shaken when I saw it because I didn't think "boys" or "men" could treat a girl or woman this way. My dad was always so loving toward my mom. I witnessed my dad early in the morning snuggling my mom, giving her sweet kisses before he left to work and all right in front of us kids. It really showed me how much he loved her. Of course they had their grown up arguments but they did exactly that! They dealt with conflict like adults. In my opinion Domestic Violence is NOT adult-like and it's just downright wrong from either of the sexes.
Rewind back to high school where I began to witness this behavior. The girl was beautiful and very studious and the guy was very low-key but he struck me as "off". Let me explain…he barely spoke to others and wherever this girl was, he was right underneath her. Before class let out, he would be right by our door waiting for her. He never allowed her to walk with just us girls, he always had to be around. You could tell Journey (changed her name) was uncomfortable with it. We weren't that close but little by little I warmed up to her during English class because I wanted to help her. I just knew something was up and I sensed she needed help! I had also witnessed something a few weeks back that I didn't like and that I also knew just wasn't right!
During English class we were placed in a group and that enabled us to become even closer friends. She began opening up to me and showing signs that he was annoying her. One day we walked out of class and I noticed her body language. She didn't want him there waiting for her…she needed that time for herself but I wasn't sure if she didn't know how to tell him or maybe she did but he just wasn't getting it. To my surprise as we walked out of class, she bi-passed him and continued to talk to me just ignoring him. That didn't sit well with him and sure enough he grabbed her arm and I saw a look of fear in her eyes. I didn't want to get involved at that point but she looked at me and said, "I'll catch up with you later" so I felt I had been dismissed. Before walking away, I sized him up (gave him a lookover from bottom to top) and he didn't seem to like it but oh well!
We need to act against domestic violence by helping HopeLine reach its goal of 1 million phone donations by the end of 2015 to help save lives! Simply drop off your wireless phones, chargers and accessories, from any carrier, at a Verizon Store and help support victims and survivors of domestic violence. You can continue to help by visiting any Verizon store or go online to purchase exclusive purple accessories, like a headset, phone or tablet case, and HopeLine® from Verizon will donate $1, up to $100,000, to the National Domestic Violence Hotline. Let's do it together and head on over to your nearest Verizon store!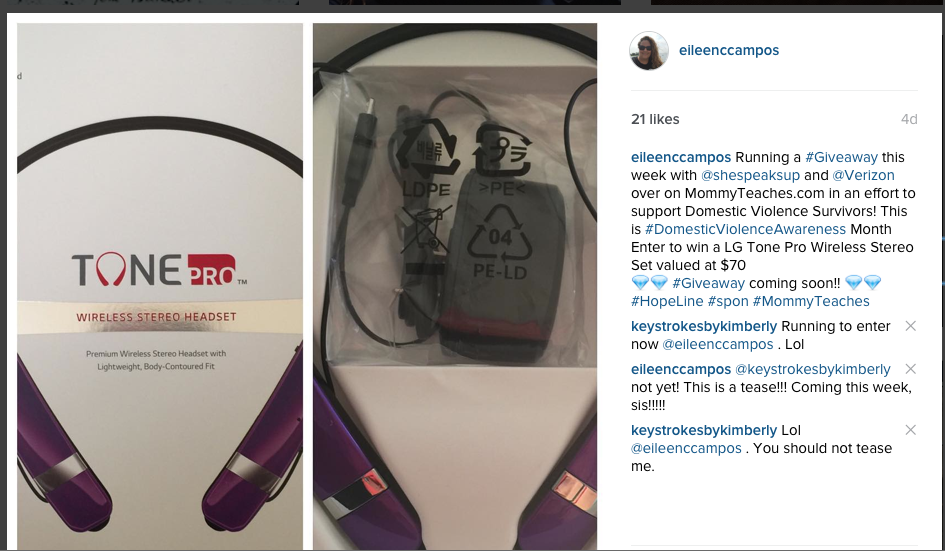 What I love about HopeLine is that they provide financial and other support to non-profit domestic violence organizations and agencies that are committed to connecting victims and survivors to vital resources. This national problem is like an epidemic that affects everyone in our community! Domestic Violence affects all sexes: 1 in 4 women will experience domestic violence during her lifetime and Men are the victims of nearly 3 million physical assaults in the U.S. The HopeLine program has collected more than 11.4 million phones and donated more than 190,000 phones to the men and women who need them most. HopeLine phones serve as a vital link for survivors and help keep a private line of communication to family, friends and employers. How's that for trying to make a difference and an impact?
Shortly after that encounter I had with Rome (changed his name) and I saw the way he treated Journey in front of me, something very odd but life-changing happened for her. I left school early one day and I saw an older woman outside of the school. She came up to me and asked if I knew Journey. I asked who she was and she presented herself to me as her mother and she had this sense of worry in her eyes. She asked me if I knew her daughter and with whom I saw her regularly. We went into a heavy discussion about the person she was with and she shared why she didn't like him and she suspected that he was abusing her. She mentioned that she had bruises on her arms and neck and asked if I had seen anything between the two. I shared what I observed and we cried together.
A few days later, Journey came into school with a black eye. When I asked her what happened she told me that she fell on her way to school. That day when we were dismissed from school, the police and her parents were waiting for her as she walked out because sure enough, he was right by her side. A camera on the street caught him punching her in her face prior to her coming to school. Someone alerted the police and they snatched him up when he walked out of school that day. Her mother cried when she saw her daughter's face. I cried because I couldn't believe he would do that to her and the officers took him away in cuffs. Journey looked embarrassed but relieved as well. She wouldn't have to deal with him for a long time now….I thought that would allow her some time to recuperate and move on.
I am grateful I spoke to her mom, developed a relationship with Journey and was there for her to help her through. Journey's story helped me identify what I wanted in a relationship, that scenario set the tone for my tolerance of violence (which is none) in a relationship. My dad's relationship with my mom also set the tone for the way a man should treat a woman! If you ever see someone in need in a Domestic Violence relationship speak up and help! You can SAVE a life…. after all that's how I feel about Journey's life! I was her HopeLine!
Care to share: Have you ever had to help someone in a domestic violence relationship?
Here's a FABULOUS Giveaway: Follow the prompts below and comment on this post to be eligible. SheSpeaks will provide and ship a LG Tone Pro™ Wireless Stereo Headset, valued at $69.99, to the winner!
**Disclosure: This is a sponsored post for SheSpeaks/HopeLine from Verizon. All opinions are 100% my own***