**** This is a Sponsored Post written by MommyTeaches/Eileen on behalf of ZYRTEC® #ALLERGYFACE™ Campaign with Latina Bloggers Connect. All opinions are 100% of my own****
I love everything about Springtime, but when allergy season hits, I wish I could wrap myself in a bubble. As moms, we have so many things going on and itchy watery eyes, a runny nose, sneezing, sinus congestion, and an itchy nose or throat adds to the stress of our already packed day. It's wonderful to see that the makers of ZYRTEC® have created a partnership with the stunning beauty and fashion expert, Carmen Ordoñez from VivaFashionBlog.com, to help women from all around the globe diminish ALLERGY FACE ™.
When this happens to me, I grab my ZYRTEC and try a few things on my own. The combination helps alleviate my symptoms during this annoying time that is now upon us! While I never had allergies as a child, as an adult and a mom, they have crept up on me. Allergies can affect not only how you feel but also how you look. ALLERGY FACE ™ takes over the beautiful faces of so many women that 96% of women suffering from allergies are said to experience ALLERGY FACE™. The makers of ZYRTEC® care so much about their users that they want women to look their best, even during their allergy season. ZYRTEC® has created a one of three-part bilingual video series on YouTube.com/Zyrtec. In the first part (as shown below) "Tackling ALLERGY FACE ™, One Tip at a Time, With Carmen Ordoñez", she introduces her tips to not draw so much attention to a red nose, a puffy face and water eyes that we tend to sport this time of year.
Here is how I remain sane (and symptom-free!) during allergyface season: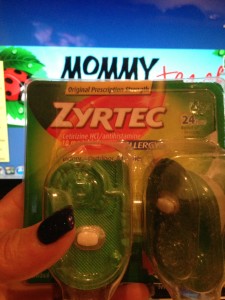 Driving my boy to and from school can be torture on my eyes during allergy season so what do I do? I make sure before I leave to place cold compresses on my tender eyelids to alleviate the itchy feeling. I also wear my glasses instead of my contacts to allow my eyes to breathe and not have any added stress on them. I don't wear makeup so I don't have to worry about mascara, thankfully. At night, before I go to bed, I wash my face with cold water to help alleviate my allergyface and so that my skin feels cool and refreshed.
My nose really drips a lot during allergy season so I carry around wipes… yes, baby wipes. I began this when I became a mom, carrying them around for my little ones. Sometimes kleenex can be rough for our tender noses so I choose baby wipes because they are softer on the skin. This helps to keep my nose less red without developing the burn from constant wiping and blowing during the allergy season. I am able to blow my nose as many times as I want and not have to worry about suffering the next day from my nose feeling raw. I also steer clear of adding fragrances to my clothes (perfumes and fragranced detergents), who needs all that extra sneezing right?
Another thing that I do during allergy season is drink loads of water and get extra rest. I drink a lot of water as it is, but this time of year, I keep in mind that I need extra to help with inflammation as well as just staying hydrated. And in terms of my beauty rest, all of the pressure on my eyes from the itchiness, that annoying runny nose that doesn't allow me to smell any sweet fragrances or whatever I cook at home, that scratchy throat, and the painful sinus congestion leads me to believe I deserve extra rest! I make it a priority to go to bed super early as I have long days ahead of me as a mom and writer. I know that I may not have the best sleep, so even with my ZYRTEC, allergies may be unpredictable so I make sure I get some well deserved z's.
Some other helpful hints that Carmen has provided and that you may want to follow are:
* For your nose, apply a corrector or primer with a green tint, followed by foundation.
* For your face, apply a pearly nude eye shadow to the top of your cheekbones to help them standout. You want all the attention on your face to be positive and luminous, and to distract that look of ALLERGYFACE™.
* For your eyes, define your upper lids with navy liquid liner to wash away those puffy eyes.
Be on the lookout for the release of part two and three of this video series, which will be launching in summer and fall. If you need any more tips be sure to follow Carmen on Twitter at @VivaFashion and check out her blog at www.VivaFashionBlog.com.
Allergy season isn't easy but neither is parenting and we manage to make the best of that!! Besides, ZYRTEC does a great job alleviating all that allergy annoyance. If you would like some product savings and rewards to help alleviate all that puffiness, visit Zyrtec.com and Facebook.com/ZYRTEC.
What do you do for your allergyface during allergy season?
Disclosure: This post is part of a sponsored campaign on behalf of Latina Bloggers Connect and the members of ZYRTEC® and all views and opinions are 100% mine.