I love fruits and veggies. I incorporate them into our everyday meals and my boys see us eating them. Once they are on their plate I immediately get the response, "that's disgusting!" shortly after, "please get that off of my plate mommy". I often wonder do other moms go through the same grief and what can I do differently? Here is what I am willing to try:
Growing actual veggies in our garden, picking them at a farm, and taking them grocery shopping too.
I often wonder maybe if they grow them they would want to eat them. Planting the seeds for the veggies with the children and turning it into a lesson. Making the child responsible for tending to them and watching them grow. When the veggies are done growing, the children can go and pick them and help in the preparation process. You can also include some teak garden furniture so that the children can rest after they're done prancing around in the garden. If you are unable to do this, take your child to the supermarket so that they can pick their favorite color vegetable which may lead them to want to taste it. Trying anything at this point that can lead to an attempt of them trying something different.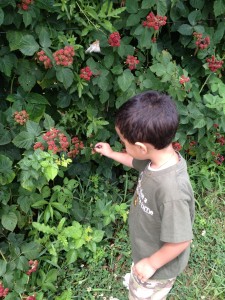 Cooking and Reading
I find that children always being involved in the process is a plus. Children love to be included in everything. Why not have them help you prepare the fruits and veggies? Include the children in cleaning them and making a dish after all of the fruits and veggies have been chopped. Including them in the process and pulling them into a tasting session can help ease them into getting their taste buds acquainted with new flavors. Allowing the children to make connections through literature is another great way they can learn more information about various fruits and veggies. They are able to identify how they are grown and what they are used for.
When all else fails hide them. I would chop the veggies very fine and include them in sauces and meats so although the children are eating them they have no clue where they are. I recently found myself doing this with a meatloaf that I made. I chopped a variety of peppers, carrots and broccoli without the children even knowing and they left their plates clean. I felt guilty having to lie but they didn't ask and they loved it! I also try to make smoothies from the fruits that the boys usually shy away from and popsicles as well. They are receiving all of their vitamins and are clueless to what they are eating- tricky but whatever works and makes the process easier for mom and dad works for me.
Picky eaters can be very difficult and these are just a few ways that you can use to ease that "picky eaters syndrome" process- In what ways have to introduced your child to fruits and veggies?