I remember when I was a little girl, my mother would purchase Goya products for our delicious daily meals. I always pranced around the house reciting that phrase, "Si es Goya tiene que ser bueno," and we truly believe that in my family. We purchased everything from sofrito to sazon as well as our rainbow of beans because those items were a part of our culture. The Goya products bring back wonderful memories from my Puerto Rican culture and childhood that I never want to forget so recently, I was elated to have been given the opportunity to team up with Goya for their MyPlate Cookbook!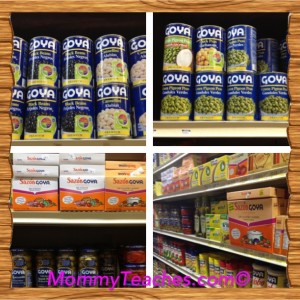 Long ago, I introduced my own boys to cooking. I love to include them in the kitchen because this is where real learning takes place. We discuss ingredients, measurements, and the health value of our food. The boys love to mix and taste as the food comes alive with the Goya products we use regularly. When the MyPlate recipe book arrived, they were as excited as I was as we flipped through the pages admiring the wonderful pictures of all of the delicious meals and the tremendous variety Goya has to offer. There are recipes from Mexico, Spain, Central America and more. All of the recipes are healthy and wholesome and can bring about discussion with your children on the importance of eating healthy.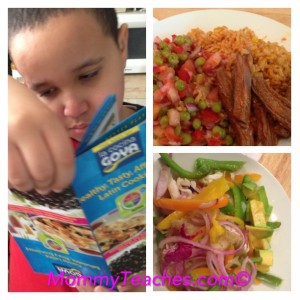 For those of us who are health-conscious and are aware of fat, sodium, and sugar content, Goya offers a variety of products in a multitude of healthy ways including: low sodium and organic varieties, complete protein Quinoa, healthier oils, diet beverages, as well as healthy snacks and desserts. We can still have the same great taste and all the goodness we remember, but with a healthier twist. As a mother who wants her children to gain healthy eating habits now and continue them into adulthood, we use the same Goya products that are in the recipe book. We cook healthy foods as a family and eat healthy together. In addition, if you are adult and still loves chocolate but want to maintain a healthy looking and good body, intaking keto powder is also a good addition to your diet, this was according to MFH website.
Having two picky eaters on my hands is not always easy so we immediately sampled two of the recipes from the Goya MyPlate cookbook. The first recipe we tried was the Tilapia in Banana leaf. I skipped the banana leaf and substituted with a bed of asparagus which happen to be a favorite veggie in my house. I wanted to supplement with something that I knew they would eat. We did use tilapia and all of the other ingredients and it was a win! The boys really enjoyed the taste of the lemon juice and even said, "it tastes like chicken!"
The second recipe we tested was the brown rice with vegetables and the Argentinean grilled steak with Salsa Criolla with my own little twist. As much as I tell the boys Popeye loved spinach, they still don't want to eat it. I substituted with corn and the red pepper remained. They loved it and even helped prepare the dish! My oldest son read the list of ingredients to me and was fascinated by the pictures of the meal. They cleaned their plates and even asked for more!
The meals we created with this family-friendly cookbook were phenomenal. They were easy, delicious, budget-friendly, and best of all bi-lingual to reinforce the speaking of spanish at home. We will continue to choose these healthy products for our family cooking because we want to live healthier lives while enjoying delicious food. I'm excited to share these healthy recipes for generations to come for both the health and happiness of my family.
Which are your favorite Goya products to use in your healthy meals?
Disclosure: I received one of the products mentioned above from Goya. I was not compensated monetarily and all views and opinions are my own.