The book "Ser Niña"- Lo que tu mamá quiere que recuerdas para siempre really touched home for me on all levels. I was confronted with a world wind of memories.  I remember my mother saying some of these sayings, teachers, my father, as well as my abuela. It was as if their voices were bouncing off of the book. Now as a parent, I often catch myself saying the same to my boys (as I don't have a daughter) and to the children in my classroom. All of these saying can be applied to everyone in some shape or form.
The following were the ones that really hit home:
Tu Eres bella.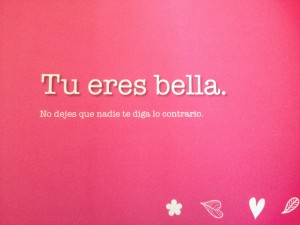 No dejes que nadie te diga lo contrario.
(You are beautiful, don't let anyone tell you anything different)
I remember hearing this a few times in life when I wasn't as fashionable as the other girls in high school. I didn't care what others were doing but I remember a teacher telling me what I looked like didn't matter, it was what I studied and how far I went was what really mattered. She went on to tell me that because I was so studious girls would use a way to bring me down but to keep my head held high and move along. I now find myself using this line with the girls in school. I watch them applying lipgloss at such a young age and getting their hair and builder gel nails done and I remind them how beautiful they are without all of that coverup. I also display this daily as I am one who chooses not to wear makeup.
Come comida saludable 
Bebe agua
Duerme
Tu vida será much mejor si te mantienes sana
(Eat healthy food, drink water, sleep)- Your life will be much better if you maintain yourself healthy)
Now more than ever I keep this in mind. I see so many people losing their life at such a young age due to heart attacks from obesity or not even taking their health into consideration. I realize that I love my life too much to lose it so young, to have my children suffer because I can't do things with them. I don't want that for myself and I don't want that for my babies. We play sports together, we are active as a family and "health" is a topic of discussion in our household.
El internet es asombroso                                                                                    
No siempre dice la verdad
(The internet is surprising, it never says the truth)
I have learned throughout my time within social media you have some wonderful people and you have some people who appear to be wonderful but its all a front. You truly don't know someone until you meet them face to face and sometimes even that isn't good enough. The internet paints a picture and within seconds it can all smudge away what you thought a person "was". The wisdom I pass along is- it's all about living and learning and taking things as they come.
Sé lo mejor TÚ posible
A veces otros seran mejores que tú en diferentes cosas
(Be the best YOU possible- At times others will be better than you in different things)
I have heard this throughout my life and this has simply stuck like glue. If you go on living and thinking about what others do you will never grow. I remind my children there is no one like you- you are not better than anyone but you aren't any less. Unfortunately, you have people who believe otherwise and that's okay too- but it's not a reality. We must remind our children to love themselves for who they are and others as well.
So many little girls can benefit from these sayings, some adults as well. We must continue to uplift our children so they can continue the cycle.
Disclosure- Although I received a copy of "Ser Niña" by PaperSaltUSA I was not compensated monetarily for this post. The views and opinions are all mine.